Scuttlebutt: Kate Hudson stealing A-Rod's heart; Spurrier may call it quits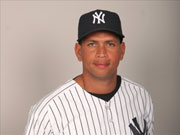 (Photo: MLB)
MLBKate Hudson stealing A-Rod's heart?

Alex Rodriguez is getting a workout this off-season in the love department. Supposed girlfriend Madonna apparently had pals watching over him in and around Miami on Friday when a new swank hotel opened there. Her posse includes Gwyneth Paltrow, who had lunch with Rodriguez on Friday at the hotel, and Ingrid Casares, who couldn't apparently keep Kate Hudson from wrapping her arms around A-Rod and keeping him close anytime he tried to talk to anybody. Hey, Hudson, you don't want to mess with a Detroit girl. (Chicago Tribune)
Cuban's troubles screw up Cubs bid
The insider-trading charges brought yesterday against Mavs owner Mark Cuban may derail his attempt to buy the Chicago Cubs. In order to join the elite club of baseball owners you need a certain number of owners who will welcome you into the club. Though this club has had some real doozies in the past (Charles Finley, George W. Bush, George Steinbrenner, Bill Veeck), the openly opinionated Cuban has probably taken himself down a few pegs on the respectability chart with some owners for just being mentioned in the same breath as the phrase "insider trading." The charges give those in the club who dislike Cuban and want to keep him on the outside plenty of ammunition to work with. (Chicago Tribune)
Cubs are last team standing for Peavy

Currently the Cubs are apparently the only team in contention for the Padres' Jake Peavy right now. San Diego GM Kevin Towers has said that Chicago's North Siders are the only team he's in conversation with right now. Towers is also saying that a deal could get done between the two sides, but it will likely involve a third or fourth team. And apparently, Rick Sutcliffe, who won the 1984 National League Cy Young Award with the Cubs, has got Peavy's ear and is trying to get him to go to Chicago. (San Diego Union-Tribune, Chicago Tribune)
Orioles are going after Teixeira
The Orioles may have finished nearly 30 games out of first last year, but that isn't stopping them from going after a local hero: first baseman/slugger Mark Teixeira. The Maryland-born Teixeira is a free agent and supposedly being offered massive bucks by big-market teams but the Orioles are seemingly banking on the idea that maybe Teixeira has a teensy bit of sentimentality for his old state and maybe would take a few bucks less for the challenge of leading the O's back to the top of its game. (Baltimore Sun)
NBA

Stackhouse wants out of Dallas

Jerry Stackhouse is unhappy in Dallas. And why wouldn't he be? Newish coach Rich Carlisle prefers a lot of movement on offense and Stackhouse likes things to be a little more structured. So Stack isn't getting very many minutes and after five years with the Mavs, Stackhouse's agent is trying to find a trade or a buyout option to get his client back being happy. (Fort Worth Star-Tribune)
Marbury buyout coming soon
An attorney from the NBA Player's Association, Hal Biagas, is busy trying to extricate the exiled Stephon Marbury from the last year of his contract with the Knicks and an agreement is rumored to be possible by this weekend. It would supposedly give him a week to ponder his fate, try to work out a deal with another team, and finalize matters with Knicks prez Donnie Walsh. Word is that Miami, Boston, the Clippers, and Dallas all are planning to take runs at Marbury when he comes available. One question, though. If the guy isn't playing at all, why is New York still bothering to take Marbury on road trips? He'll next enjoy the city of Boston. (New York Post)
Karl liking Billups much more than A.I.

Nuggets Coach George Karl used to kvell about Allen Iverson but that was then, this is now. The Denver coach is saying new guy in Denver Chauncey Billups kicks Iverson's keister when it comes to playmaking and Karl for one is pretty happy about having one in his backcourt than the other, who just got sent to Pistons. Karl doesn't' think Iverson could have brought a championship to Denver and he seems to be feeling pretty good right now about his Chauncey. (Mlive)
NFL
Texans QB Schaub nearly missed year

Texans coach Gary Kubiak inadvertently let reporters know Monday that his injured starting QB, Matt Schaub, was considered for a time to be a goner for the rest of the year after he sprained his MCL when Vikings defensive end Jared Allen hammered him with a low hit. The injury was previously thought to be one that would take Schaub out for a few weeks and nothing more. As it is, the guy will likely be back for only a few weeks of the rest of the season. (ProFootballTalk)
Saints could be ditching Deuce
Saints running back Deuce McAllister may have four years left on his contract, but it's not looking good that he'll be calling New Orleans home next season. He's being replaced, it appears, by Pierre Thomas, who had 16 carries for 88 yards Sunday to McAllister's eight for 18. The Deuce may be wild, but he was just hurt way too often. The Saints will likely find a way to jettison him this off-season. (New Orleans Times-Picayune)
Giants banking on Jacobs healing

Giants running back Brandon Jacobs hurt his knee in the first half of Sunday's 30-10 win over Baltimore, but nobody seems to know if he'll be able to play this coming Sunday or not. The guy is walking around "pretty well," according to Coach Tom Coughlin (which could mean that the RB is unable to sit up for all we know). The Giants do apparently have Jacobs in the plans for this weekend so they must be feeling pretty good about his quick recovery. (New York Post)
College football
Spurrier hanging up his clipboard?

Word on the street is that former NFL coach Steve Spurrier is going to call it quits on his coaching career at the end of the year. The 63-year-old former Heisman Trophy winner ('66) is currently coaching South Carolina, which got pummeled last weekend 56-6 by Florida. Spurrier apparently wants his son, Steve Spurrier Jr., to coach the team once he goes but word is that South Carolina wouldn't mind finding a new name to put on the coach's door. The potential retirement has some possible recruits worried. They apparently want to play for Spurrier, who built a powerhouse at the University of Florida in the '90s, winning one national championship in '96, and are concerned that he's about to leave. (Spartanburg Herald-Journal)
© 2008 NBC Sports.com
For more Sports coverage, visit
NBCSports.com