Friday Contest A Day: Free Ninja Birthday Party from Elite Martial Arts
Posted:
Updated:
Good Friday Morning:
KHQ.com is partnering with dozens of local businesses to bring you a Contest A Day.
Each morning you will receive a contest alert that lets you know about the day's prize.
If you are interested in entering, just click the link below to go to the Contest A Day page.
The winner will be randomly selected Monday and the next prize will be announced.
Friday, December 5th Contest A Day: Free Ninja Birthday Party at Elite Martial Arts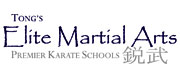 More KHQ Contest Alerts: