North Central runners win national Cross Country championship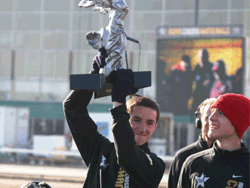 SPOKANE, Wash. - After winning a third consecutive state championship, the boys Cross Country team at North Central High School can add another honor to their trophy case: National Champions.
North Central's team, led by seniors Andy Kimpel, Jeff Howard and Leon Dean beat York High School, a team from Illinois that's won 30 consecutive state titles, in the Nike Cross Nationals in Portland on Saturday.
"This is probably one of the most memorable sports events I've ever seen," said Doug Wordell, a self-described "dad-coach" for the North Central team. Wordell is also the Nutrition Services Director for Spokane Public Schools.
The race, run in the center of Portland Meadows, featured the best runners from across the nation and is the only one that brings state champions together for a championship contest. It was the first time a team west of the Mississippi has ever won the national title.
But how the team from North Central won the race is even more impressive than the fact they came in first place.
With no NC runners in the top 15 as the race began, the little club that cold from Spokane made up time as the race progressed. Jeff Howard was battling the flu; Adam Reid was spiked in the calf in the first leg of the race and lost a shoe; no NC runners were in the top 5 at the 4 kilometer mark.
And then, magic happened. North Central passed a runner here and a runner there.
"Our goal was to pass as many runners as we could at the end", said senior Leon Dean.
Alex Avila passed 20 runners in the last 100 meters to secure a first-place finish for North Central.
"This is about character and young men giving back to their community," said Wordell, who said the teens have a set of core values they live as a team. "It's more than the fact that they won this. They did it for each other."
"This is a whole community of runners and families coming together, believing in a dream, and laying down footprints in time. This championship belongs to every runner and parent who has supported our program," said NC coach Jon Knight.
1st place - North Central High School (Spokane) - 134 points
2nd place - York High School (Illinois) - 151 points
3
rd
place - North High School (Illinois) - 195 points