Stephanie's December 2008 Diabetes Notes
Posted:
Updated: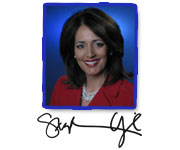 I hope you are reading these notes in front of a warm fire with a cup of tea in hand.
It is cold out, and as excited as I am that the mountains will soon have enough snow to ski, there are some really important things to keep in mind as we move into these very cold months.
I believe I may have mentioned in the past that we work with Judy Gordon, Community Health Manager with the Coeur d'Alene Tribes. She recently showed us a great site that I want to make sure you all have under your favorites. When I looked at it before writing this note, I found several good articles to share with you.
Among those articles:
Dining during the holidays
The motivation to stay fit during the winter months
Weathering this cold weather with its impact on insulin requirements.
The site is called Dlife.com and it really is worth a look.
There is also a new news article on KHQ.com that is worth noting. It addresses children with Diabetes and why they have an increased risk for eating disorders. Researchers are working to find out why. Click the link to read more.
Also a reminder from the Centers for Disease Control, for anyone six months or older who has Diabetes, the CDC recommends getting a flu vaccine to prevent illness and complications. Here is a link to more CDC material on the importance of getting the flu vaccine if you have Diabetes.
Finally, I mentioned last month that the National Diabetes Education Program was gathering resources and articles on "People with Diabetes: Eating Right When Money's Tight. I want to make sure you have link to that article that helps prepare healthy meals at home without spending a lot of time or money.
I hope you enjoy your holiday. I'll write to you again in the New Year!