Stanojevic lifts Eagles past Idaho State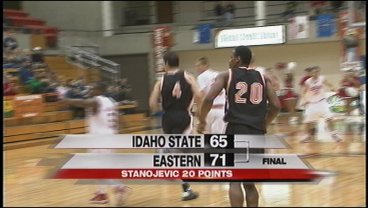 CHENEY, Wash. - Milan Stanojevic hit 10 of 10 from the foul line and scored a season-high 20 points Thursday night to lead Eastern Washington past Idaho State 71-65.
Brandon Moore added 17 points and Benny Valentine 14 for the Eagles (9-7, 3-1 Big Sky Conference).
Chron Tatum had 13 points and 13 rebounds for the Bengals (4-12, 1-1), who also got 13 points apiece from Amorrow Morgan and Donnie Carson.
With 2:44 left and Eastern Washington leading 62-60, Stanojevic was fouled on a 3-pointer, burying all three free throws and putting the Eagles ahead 65-60.
After the teams swapped baskets, Matt Stucki sank a long 3-pointer to pull Idaho State to within 67-65 with 37.2 seconds left. Valentine hit two foul shots with 25.9 seconds remaining to give Eastern Washington a 69-65 lead. After a Stucki miss, Valentine grabbed the rebound and raced down for a breakaway layup in the final seconds.
With his team trailing 52-49 with 8:01 left, Idaho State coach Joe O'Brien was ejected after arguing a call, getting hit with two technicals and leading to four Stanojevic free throws. Moore added two more foul shots to give Eastern Washington its biggest lead, 58-49.
Idaho State's Morgan, who also had six assists, scored five points during an 11-2 run that tied the game at 60.
Copyright 2008 The Associated Press. All rights reserved.