"The Last Templar" miniseries on NBC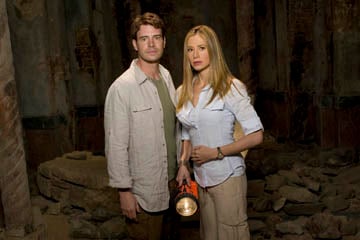 In this four-hour miniseries, Oscar winner Mira Sorvino ("Mighty Aphrodite," "Mimic") stars in an epic action-adventure tale about the greatest mystery of modern time. As the journey begins, Tess Chaykin (Sorvino), a Manhattan archaeologist, reluctantly teams up with FBI agent Sean Daley (Scott Foley, "The Unit," "Felicity") and the pair are drawn into a fast-paced, romantic adventure as they attempt to uncover the lost secrets of the legendary medieval Knights Templar.

The miniseries also features Victor Garber ("Eli Stone," "Alias") as Monsignor De Angelis, a high-placed Vatican envoy. Veteran thespian Omar Sharif ("Doctor Zhivago," "Lawrence of Arabia") rounds out the all-star cast playing the role of Konstantine, a Greek savant who rescues Tess and Agent Daley after they are shipwrecked and wash up on the beach at Symi.

"The Last Templar" opens at a premiere gala for an exhibition of Vatican treasures at the Fine Arts Museum in New York City. Shortly after arriving, Tess witnesses four masked horsemen, dressed as Templar Knights, storm into the Museum, scattering Manhattan society. Tess watches in silent terror as the leader of the horsemen hones in on one particular piece -- a strange geared device that he grabs as he disappears into Central Park.

Rewind to 1291 with the fall of the Latin Kingdom's reign in the Holy Land in Acre. As the burning city is taken by the Sultan's forces, a lone galley escapes out to sea, carrying Martin of Carmaux, a young knight from the historic order of the Knights Templar. Also on the galley are Martin's mentor, Aimard of Villiers and a mysterious chest entrusted to them by the Order's dying Grand Master. But the ship never reaches its destination.

Back to present day, as the horsemen's dead bodies start turning up -- and the importance of the stolen device becomes more apparent -- Tess and Agent Daley are drawn into the dark, hidden history of the crusading Knights and of the last surviving Templars' fateful journey from Acre. The pair is soon propelled into a dangerous adventure that takes them into the cemeteries and sewers of Manhattan, across continents, through desolate Turkish highlands and finally to a violent storm on the Mediterranean that shipwrecks them onto a remote Greek island -- and into the very heart of an incredible Vatican secret.