Zags climb higher in polls; Portland up next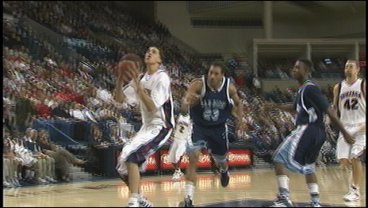 SPOKANE, Wash. - The Zags climbed further up the polls Monday after a weekend whooping of the San Diego Torreros.
Gonzaga finds itself ranked No. 18 after beating both San Diego and Saint Mary's at home. And now it's off to Portland to play the Pilots, currently ranked second in the WCC. Portland is only a game in back of the Zags.
After playing in Portland on Thursday, Gonzaga heads back home for a non-conference game against No. 14 Memphis at the Spokane Veterans Memorial Arena.
Around the region:
The women's team from Gonzaga (19-4, 7-0) remains unbeaten in the WCC. They pounded San Diego 109-73 in San Diego Saturday night. 109 points is the most the Zags have scored in a game since 1985 when they defeated Seattle Pacific 111-84.
Washington State is coming off a split with the Arizona schools, having beaten No. 14 Arizona State, but then losing to Arizona on Saturday. The Cougars play at Stanford on Thursday, and then against California on Saturday.
The Washington Huskies moved up the polls again this week. The team from the west side is now ranked No. 22.
AP Top 25 Poll
1. Connecticut
2. Oklahoma
3. North Carolina
4. Duke
5. Louisville
6. Pittsburgh
7. Wake Forest
8. Marquette
9. Xavier
10. Clemson
11. Butler
12. Purdue
13. Michigan St.
14. Memphis
15. UCLA
16. Texas
17. Villanova
18. Gonzaga
19. Minnesota
20. Syracuse
21. Kansas
22. Washington
23. Illinois
24. Arizona St.
25. Utah State