Get Healthy!
Visit Your Doctor
Posted:
Updated: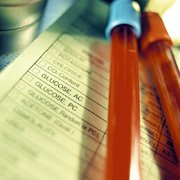 Important Screenings: Your Diabetes ABCs.
A for A1C: A blood test showing the average blood sugar for the past 2 to 3 months. Get this test at least twice a year.
B for Blood Pressure: Should be checked every time you visit a doctor. Some pharmacies have a station where you can have your blood pressure checked for free. Aim to be below 135/80.
C for Cholesterol: A blood test that checks the amount of fat in your blood. There are three things doctors look at when checking your cholesterol and determining your overall cholesterol level:

LDL - LDL cholesterol can clog your arteries and lead to heart disease. Aim to be below 100.
HDL - Good cholesterol that helps protect your heart. Aim to be above 40.
Triglycerides - Another type of blood fat that can put you at risk of heart attack or stroke. Aim to be below 150.
Talk with your doctor about when and where you can have these tests done, what your numbers mean, and what you can do to help stay healthy.
Questions to Ask Your Doctor About Diabetes
Do you think I am at risk for diabetes?
What symptoms should I be looking out for?
What are the different types of diabetes?
How can I prevent diabetes and how can I help my family?
What is pre-diabetes?
Questions to Ask Your Doctor When Living With Diabetes
How often should I test my blood sugar and what should I do if it is too high or too low?
What medications are available that would help me manage my diabetes?
What types of exercise would you recommend?
What changes in my diet should I make?
What symptoms of diabetes complications should I watch for?