4A, 3A High School Basketball - Girls
Shocked! Lewis & Clark falls to losers' bracket; North Central stuns East Valley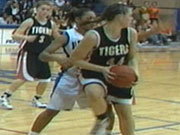 Walla Walla cruised past Lewis & Clark 70-52 to advance to the next round of the regional playoffs
4A Regionals
SPOKANE, Wash. - Just like that, Lewis & Clark's girls basketball team finds itself in a precarious situation, after losing only their second game in nearly three years. The Tigers were outgunned 70-52 by a younger Walla Walla team in the first round of the regional playoffs Tuesday night.
Jamie Weisner scored 28 and pulled down 19 rebounds for Walla Walla. Two other Walla Walla players scored in double figures as well, handing the three-time defending state champions just their second loss in nearly three years.
Jeneva Anderson scored 15 for the Tigers, but was the only player in double digits. Lewis and Clark trailed by five at halftime, but were outscored 22-9 in the third quarter. After that, they couldn't catch up.
Lewis and Clark drops into the losers bracket and must win three straight games in order to return to the state tournament.
Mead 49, Eastmont 27
Mead had no troubles on its home court beating Eastmont in the first round of regionals. Tifa Puletasi scored a game-high 17 points for the Panthers, which had a comfortable 25-7 lead at halftime. The Panthers will play Moses Lake in Friday night's semifinal game - a team they know very well. It'll be the fourth time in three years the teams will meet in the regional playoffs.
3A Regionals
Mount Spokane drops close on to Hanford
The Mount Spokane Wildcats outscored Hanford 13-6 in the second quarter, but couldn't hold onto a lead to beat Hanford. Hanford won the contest 63-60 to advance to the next round. Katie Karisch scored a team-high 18 points for Mt. Spokane. Meagan Nelson hit a 3-point shot with 15.6 remaining to bring her team within one, but Hanford's Sam Merry hit two crucial free throws after that, securing her a team a win and a date with Shadle on Saturday.
North Central 52, East Valley 42
North Central proved you can't count on records to determine who will win and who will lose. With just two wins entering the regional tournament, the Indians routed East Valley (11-12) 52-42. Sophomore Tara VanWeederhuizen scored a season-high 19 points and six blocked shots for the Indians. Morgan Manchester was the only Knight to score in double figures, finishing the game with 16. East Valley is eliminating from the playoffs, while North Central moves on to play West Valley (Yakima).