Spokane Shock
Let the season begin: Shock return to practice field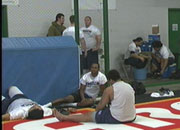 SPOKANE, Wash. - It's hard to say it, given we're under a fresh blanket of snow, but it's almost football season. The Spokane Shock returned to the practice field Monday for the first time this year.
The Shock are coming off an impressive 18-2 season that ended with a disappointing loss to Tennessee Valley in the championship game.
This year's roster includes 10 returners from last year, along with some talented newcomers.
"I'm definitely excited to get back going again," said Raul Vijil. "It's been a long 6 months, especially here in Spokane. It was a little cold. [I'm] getting excited to get back inside and start playing some football."
"We've got a lot of experienced guys back, and a lot of talented rookies; it was good to get back on the field today" said head coach Adam Shackleford.
Shackleford said one of the most exciting position battles this year will be for the offensive line. Last year he brought in five linemen for three starting spots. This year there are nine linemen in camp, and still only three starting spots available. None of the linemen competing for a job is under 6'2". All of them are hefty boys, weighing at least 300 pounds.
Those linemen who get a starting job will have to replace one of the best players in the league. Rico Ochoa, who played last year with the Shock, decided to retire, leaving the team with a big hole to fill. Ochoa was named the third-best lineman of all time in the af2. He'll be replaced by one of three players: Kyle Young, Lorenzo Breland, or former EWU Eagle Matt Alfred.
The Spokane Shock play the Arkansas Twisters in a pre-season game on March 18, a game seen live on SWX (Digital 6-2, Comcast 115, Time Warner 306, Charter 287). The Twisters are led by coach Chris Siegfried, and QB Kyle Rowley. Both of them were part of the 2006 Shock team that won the ArenaCup Championship.