SPOKANE COUNTY, Wash. — It has been exactly 18 years since the body of Catherine Avis was discovered in a rural field outside of Valleyford. Family members say the 40-year-old's remains were so badly decomposed, her body had to be identified through a fingerprint and a tattoo she got in honor of two of her children. The medical examiner could only determine Catherine was the victim of homicidal violence. For years, the case has gone cold.
Seemingly, the only lead in the 2004 murder case was the discovery of Catherine's white, cloth purse. Catherine's son says he was told it was found by a neighbor or passerby near the Hangman Valley Golf Course in late May of 2004. That's also the same time frame of when Catherine was last seen alive, but her body wasn't found for weeks until July.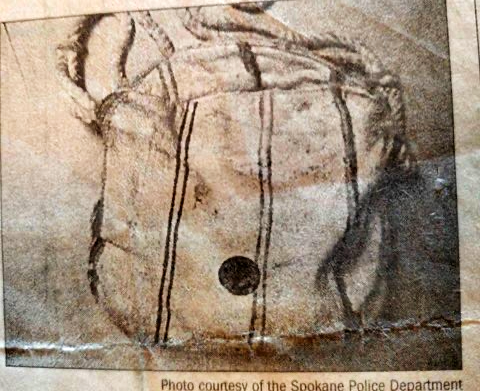 Spokesman Review reports dating back to summer of 2004, state detectives were hopeful whoever found Catherine's purse would come forward to give a more precise location. It's unclear if those witnesses ever did. 
Her son Daniel Ford remembers hearing the awful news.
"This is what the police told me," Daniel Ford said. "They found her purse near [the] golf course. They found her body near Elder Road. I remember, he asked me if my mom had any distinguishing marks."
He knew she did and recalled telling the deputies.
"She had a tattoo with Jamie and Jessica with a heart right here," Daniel described. "I was devastated."
The family was notified it was a man and his child who found Catherine's body while they were out four-wheeling near Valleyford. It was obvious she had been there for quite some time.
"[Investigators] told me the gruesome details," he said. "He told me the coyotes had gotten to her. Yeah. It's been rough. We've had a lot of ups and downs emotionally. You just have no answers."
Daniel and his half-sister Jamie say they know their mom had her struggles. They say the mother of four suffered a traumatic miscarriage shortly before she was killed. Daniel says he knew she had gotten into legal trouble and had a hard time with addiction. 
"Our mother, she was loving, caring," Daniel said. "She did have her bad habits. But she wasn't a constant user. She wanted what was best for people. She would give the shirt off her back to [anyone in need.]"
But he fears her criminal history may have impacted community reaction to the murder. 
"I think they look at the fact that it said drugs, and that she was on the streets, and suddenly, it went by the waste side," he said.
Daniel was approximately eight years older than his closest sister who Catherine ended up losing custody of. Allison 'Jamie' Hansen says she doesn't hold any anger toward her mom.
"She did her best," she said. "I found out [that my mother had been murdered] two weeks before I turned 16. And around that time, I could have met her again. To hear [that she was a homicide victim] it was like my heart ripping twice."
And that's why she's putting everything she has into getting her mother's story back out there.  Daniel says he's been patient, but after seeing cold case after cold case solved, he just wants his mother's name to finally be next.
"[Detectives] told me to give them time," he said. "They told me they would give me some information when they found it. And, nothing. That's why we contacted [Hayley.] To try to get some answers."
Answers they believe a witness out there has right now. They urge whoever that could be to come forward.
"What if it was your mom? Or your grandma, aunt, uncle, whoever, you'd want me to speak up right," Jamie said. "And, who's to say my mom [was the killer's only victim.]"
Catherine's purse remains in evidence. Examinations have been done on the bag over the years, but nothing useful has surfaced. As DNA technology continues to improve, that could perhaps change.
SCSO Undersheriff John Nowels pleads with anyone who could help to come forward. Even if that individual has already reached out to law enforcement. 
"If you have any information, even if you previously provided it, on a cold case... missing person's case... please reach out," he said. "Even after 40 years, or 100 years, the information [you may have] is always good to be refreshed. With advancements in technology, you never know what slight piece of information could be what we need to solve it."
The family hopes for justice for Catherine. They want someone held accountable for her horrific death. They are also hopeful speaking out could lead to connecting with other family members. 
Daniel says his mother gave birth to another son who they believe was adopted by a couple in North Idaho. They say he is likely in the age range of his mid 20's now. Jamie and Daniel both say they would love to connect with him if the story somehow reaches him, and he has interest. 
"We don't know who he was adopted to, other than the family [may have lived] in the Sandpoint [area,]" he said. "If at least we can be reunited with him... or other family so we can reminisce about the good things about our mother, then [the interview was worth it.]"