Build your own periscope
What you will need:
(2) 2" x 3" oval mirrors. I found a package of (6) at Hobby Lobby for only $2.47
(1) two foot section of 2" plastic ABS pipe. You will find this at most hardware stores
(2) 2" x 1½" x 2" Sanitary Tee's
(2) 1½" end caps
(2) sections of 1½" diameter ABS pipe cut at about 1½" in length
ABS cement
Hot melt glue gun
Saw to cut pipe. You may be able to get the hardware store to cut the pipes for you if you do not have a saw and you ask real nice
Sandpaper
Adult supervision
Optional supplies:
Spray paint. I would suggest at least two vibrant colors
(1) 2" x 3" ABS reducer
(1) section of 2" diameter ABS pipe cut at approximately 2" in length
(1) 2" x 1½" ABS tee
(2) more 1½" end caps
(2) sections of 1½" diameter ABS pipe cut to approximately 6" in length
Procedure:
Note: If you are going to paint your periscope pieces different colors, you will want to do so before you glue them together.
1) Insert a mirror into the 2" end of one of the sanitary tee's so that the mirror side will end up facing the 2" opening as shown: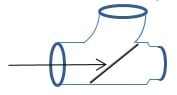 2) Make sure that mirror is not tipped at an angle as shown here.
Mirror should be parallel as shown
Before gluing the mirror into position, rotate it so that it is parallel to your sanitary Tee as shown. You want to make sure that it is level as shown and not sitting in there at an angle when looking into the 2" opening:

3) Tilt mirror so that it is at a 45 degree angle and glue it in place using a hot glue gun from the 1½" opening. Once completed, do the same with your other mirror and sanitary tee.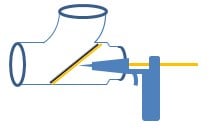 4) Follow the instructions on your ABS cement to attach the 1½" end cap using a 1½" length of 1½" pipe to your sanitary tee as shown. Once completed, do the same with your other end cap and sanitary tee.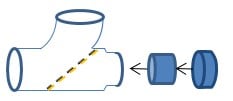 5) Again using the ABS cement, attach both sanitary tee's to your 2 foot long (2" diameter) ABS pipe as shown. Make sure that the ends of your sanitary tee's are pointing in opposite directions.

Optional accessories:
Attach a 2" x 3" reducer to the open end of your sanitary tee to make your periscope look cooler.
You may also add a 2" x 1½" double sanitary tee and add about 6" of 1½" pipe with end caps to make handles as shown. You will need to cut your 2 foot long (2" diameter) pipe to fit this section in.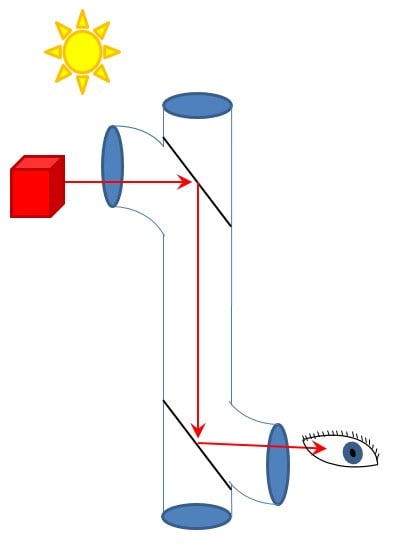 What is going on?
A periscope helps us to see around corners and over tall objects using mirrors. When we see an object, what we are seeing is actually light being reflected off of that object. If there were no light, we would not be able to see. In the drawing to the right shows, light is reflected off of the red box and into the open end of your periscope. Once it enters your periscope, this light is then reflected off of the surface of your mirror and down the inside of your periscope to the other mirror. The light is then reflected off of the second mirror to your eye. It is important that the mirrors be placed in your periscope at the correct angle in order for the light to be reflected to your eye.
Try this:
You can also use square mirrors to build your periscope but you will have to have, ort make, the body of your periscope flat to fit your mirrors.
Ask Mom and Dad if they can help you look up optical illusions online. If you do not have access to the internet, you may also check out books from the library about optical illusions.
Radical Rick
Extreme Science