SPOKANE, Wash. - Chalk it up to COVID. Again.
The joke has always been going to the department of licensing is never very fun (I, myself, have always had a fine, pleasant and quick experience) but now, people are clamoring to make the trip, they just can't get in.
Getting a driver's license is any 16-year-old kid's dream, but for Amy Tucker's son, it's really just been a nightmare.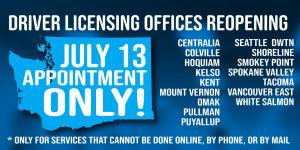 For the entire family, really.
Tucker moved to Washington from Nevada and had also gone through the steps to get her license in Washington. She was almost there, but then COVID-19 hit.
"If I've done all these steps, there should be a way for me to just get in and pay a fee and show my certificates or whatever they need," Tucker said on Friday, frustrated she couldn't complete the process of getting her license online. 
Due to COVID restrictions, Washington State Department of Licensing offices are working reduced hours and even having to take furlough days, according to their website. All offices are closed in Washington for the next three Fridays.
I tried to call Friday morning and was met with a message: 
"Mandatory lay off days were ordered by the Governor," the robot voice told me. "You may be able to complete your transactions online."
Which is true, but not all transactions. 
Through the DOL's website, there are a variety of things you can still accomplish online (I just renewed my tabs a few days ago and they were quickly shipped to me from the South Hill office). However, for anyone like Amy and her family who needs something like a first time driver's license, ID card or knowledge and skills testing, you need to do that in person, which requires an appointment, which is even more difficult to get than Corey Haim trying not to spill a cup of coffee on his driving instructor's lap during his test in the 1988 classic "License to Drive".
Appointments are extremely limited and it's a crap shoot on when the best time to try and get one is.
"You can only schedule appointments 30 days out," the DOL's website says. "A small number of appointments open up daily. There is no specific time to check, as we make adjustments to the system throughout the day."
For Tucker, persistence paid off when she logged on early Friday morning and finally snagged one for the end of the month.
However, others like her husband and her son, who wants to get his first job, aren't so lucky.
"We just bought the car and he just turned 16 and he's been depressed and he was really looking forward to getting his first job," Tucker said. "Right now essential workers, fast food workers, cashiers and these things that he could do, and he can't even get a Washington ID to become valid for me to drive him to work!"
Tucker's tale isn't unusual.
A look at the DOL's Twitter feed and Facebook page shows the same frustrations mounting as people can't get through online for an appointment, with responses pointing people to call customer service at 1-360-902-3900.
Appointments can't be made in person, as Jami and Vincent Muglia found out Friday morning when they showed up to the Spokane Valley Department of Licensing. 
"It'll probably be a while before he gets his permit renewed because I'm going to assume there's going to be a lot of people waiting," Jami said about Vincent. 
"I honestly don't mind," Vincent added. "I've just been trying to get my license before the school year starts again, but it might take that long."
However, Jami and Vincent will be happy to know that instruction permits can be renewed online, According to DOL and even first time instruction permits can be applied for online.
In addition, there may be some more light at the end of the tunnel as the DOL announced this week that 16 more offices, including in the Spokane Valley location on E. Sprague and in Colville will open up on Monday, July 13.
With more offices open, getting an appointment might just become easier in the days to come.
But for a 16-year-old itching for the freedom of some wheels, every day feels like a lifetime
"It's kinda really put a damper on the whole 16-year-old experience in every way possible," Tucker said.
Things you can still do online include renewing tabs, licenses, registrations, and as I mentioned instruction permits.
You might be wondering about the Enhanced ID that we're required to get. Well, that's been pushed back a year to October 2021 so there's still plenty of time to get that. 
If you still need to make an appointment, it can be done online, or you can call 1-360-902-3900.
Again, offices are operating under reduced hours and days and their workload is heavy, so as you try to grab one of the coveted appointments, please practice some kindness and patience.