UPDATE: 
After this story aired, Hayley received an email from a DOL rep asking to be connected with this family to try to help them. Unfortunately, despite their extenuating circumstances, today Hayley got word from the family that nothing can in fact be done until offices are back open. Even more frustrating is that there is extremely scarce information on when that will happen or what phase this is even in. We know several of you are also struggling with DOL concerns. If that's you, a course of action you can take is to write to the governor's office and ask for clarity and for them to address DOL in their plans.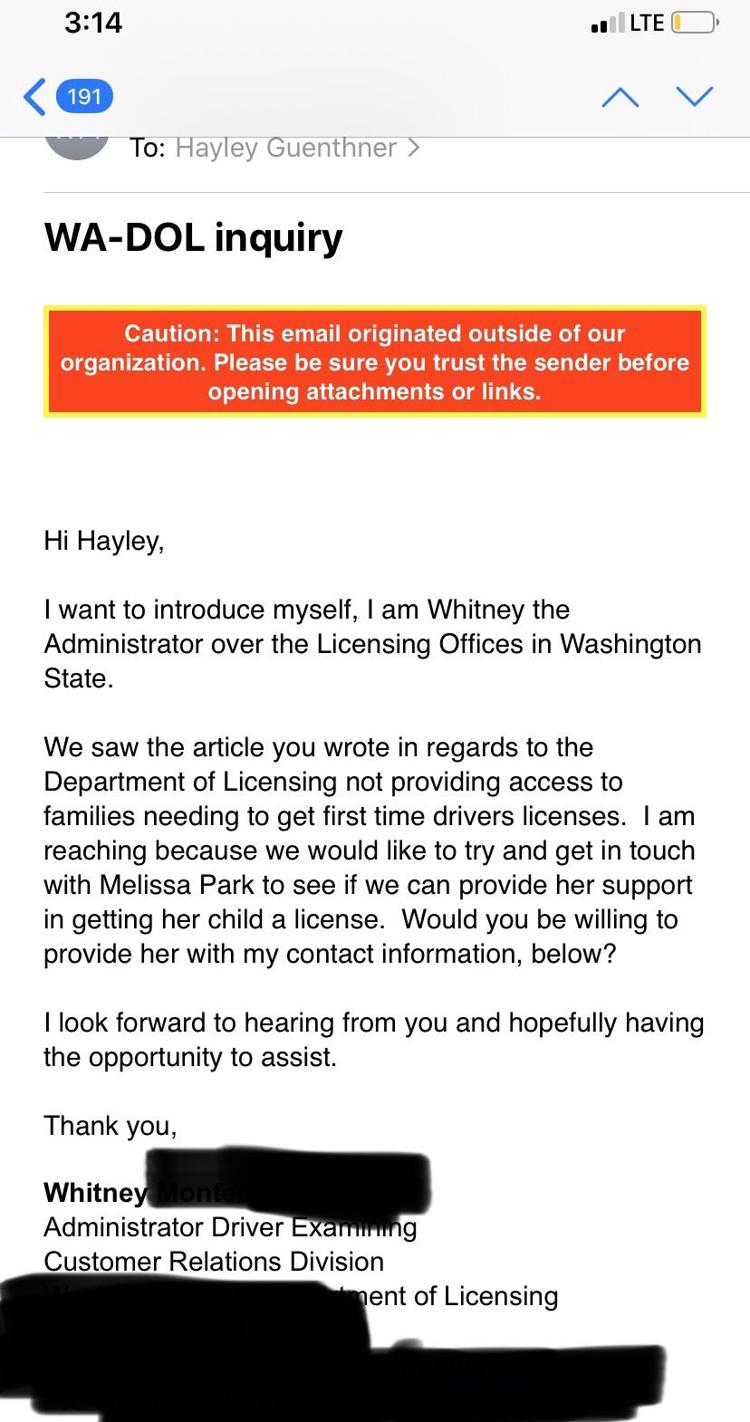 PREVIOUS COVERAGE: 
MOSCOW, Idaho -- Monday was a big day for some students on the Palouse. Logos Private School opened back up, welcoming kids to class after five weeks at home. Idaho has left it up to individual schools and districts to make the decision that best suits them regarding reopening timelines.
Dr. Melissa Park's two children are among those students who were able to return. But despite the excitement, there is some added stress for their family.
Park wrote our Hayley Guenthner the following, 'Help Me, Hayley' request, reading in part:
"I'm a single mother. I'm also a medical doctor. I recently started a new job, where I work three days a week from 7:30 am til 6:00 pm. My children go to school at a private school in Moscow, ID. My son turned 16 on 03/14. He had (completed) driver's training and his hours driving, and we were both looking forward to him getting his license so he could drive himself and his sister to school since I couldn't get them there and pick them up when I worked. However, COVID made this impossible because all DOL services were closed in WA.Now, the school that they go to is returning to an on-site school this Monday, 05/04. I have called the DOL in WA, explaining our situation, which is urgent but was told there were no contingencies in place for this, and there was nothing they could do. I even left a comment to the governor, hoping I might somewhere with this, but got nothing. My kids need to attend school, but I need to go to work, especially in these trying times. While my work would be understanding of my issue, I shouldn't have to increase the workload and stress on my fellow providers... My children and I do not any family that lives near us. We are on our own."
The concern over the Washington Department of Licensing offices being closed is one other KHQ viewers have had as well. Hayley received a note from another family struggling while their offices are dark.
Park and her children live in the Pullman area. She works in the LC Valley and as mentioned, their school is in Moscow. With Park's work more crucial than ever, life is already chaotic. Her son receiving his driver's license is the one thing that could lessen it all.
"This really is an urgent issue," she said. "I have to get my kids to school, but I also have to work. I need to be there. Patients need me. We're getting busier and busier."
The DOL has made it easier for people who need to renew to do so online, but for those trying to get a license for the first time, they are out of luck. A spokesperson said they haven't even been notified about what phase in Governor Inslee's reopening plan applies to them. As of right now, they do not have any contingency plans in place that could apply to families like the Parks.