UPDATE 11:15AM 10/20/20: 
Yoke's released a statement via Facebook on Tuesday regarding the incident involving an employee and a customer who refused to wear a mask.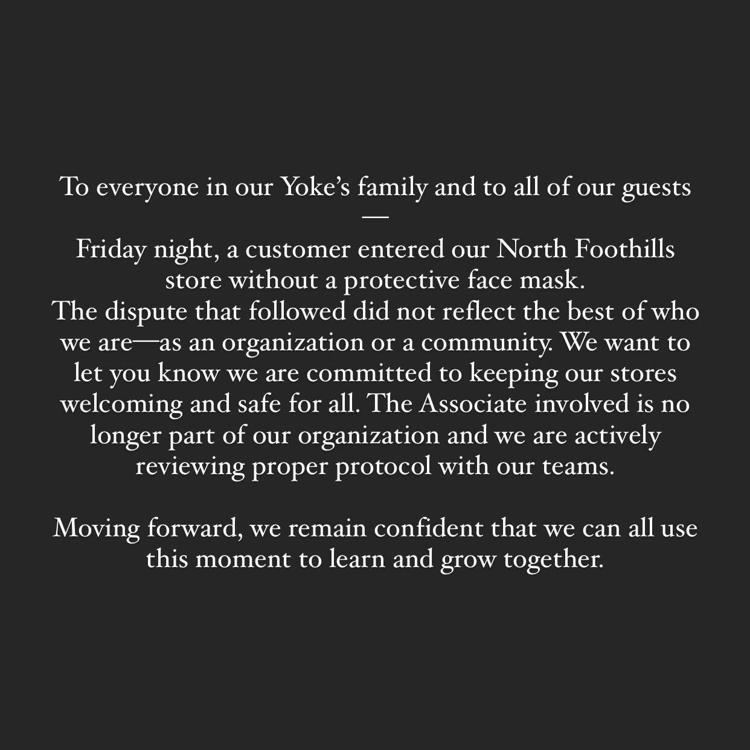 UPDATE 1:14PM 10/19/20:
KHQ has learned the Yoke's employee in the video is no longer with the company. 
The General Manager at the store referred us to the corporate offices for more information. 
KHQ has left several messages, but so far they have not been returned. 
PREVIOUS COVERAGE: 
After a Facebook video of a mask incident at the Yoke's on Foothill Drive went viral, Yoke's released  a statement about this incident. It reads:
"We have been made aware of the event that took place yesterday evening at our North Foothills location. It is important to us that we create a safe place for our guests and our associates. We are in the process of collecting information and speaking with those involved so we can understand exactly what happened before we take appropriate action. Thank you."
PREVIOUS COVERAGE:
SPOKANE, Wash. - A video of a man not wearing a mask in a Spokane Yoke's is circulating online. Dozens of viewers have sent us the video of the incident at the Yoke's location on Foothill Drive and asked us to look into it.
In the video, the unmasked man said he has a medical condition that prevents him from wearing a mask. The employee asked the unmasked man what medical condition he has but the man refused to say. 
The videos shows someone grabbing the unmasked man's phone and throwing it to the ground. As the situation escalates in the parking lot, the employee throws an object at the man, hitting him in the head.
According to the Washington State Department of Health, people should not ask a person why they are not wearing a mask due to them possibly having a medical condition. A person does not legally have to disclose their medical condition. 
Managers at the Yoke's on Foothill Drive said corporate is investigating and the store cannot further comment at this time. 
KHQ reached out to corporate for comment and have not heard back. 
Watch KHQ Local News at 5 p.m. and 6 p.m. to hear from the witness who took the video.