SPOKANE, Wash. -- Around Christmas each year, we hear several stories of good Samaritans helping out by covering stranger's bills at stores. As we continue to navigate through the uncharted territory due to COVID-19, it looks like we are getting a little bit of that holiday magic in March.
Over the weekend, our 'Help Me Hayley' received the following message, in part:
"Good afternoon Hayley,
I'm not requesting help for myself, however, I do find myself in a predicament.
My wife, daughter and I typically go out to eat over the weekend, and our daughter picks a military family or elderly coupe that we pay for their meal. With the recent closing of restaurants, we are unable to continue this tradition. 
While watching the news and hearing Fred Meyer is setting hours for the elderly to shop, (my daughter) suggested that we go to Fred Meyer and pay for some of folks' groceries. We decided that during this time of social distancing, that us approaching them could not only frighten them but potentially put them in harm's way. 
We are fairly new to the area and have seen how you are able to help those in need. Last week I had two opportunities to have a conversation (redacted) and my family regarding " doing the right thing when nobody is watching".
On behalf of the (redacted) family, I would like to offer you $1000 to help others as you see fit.
Please let me know how I can get this donation to you."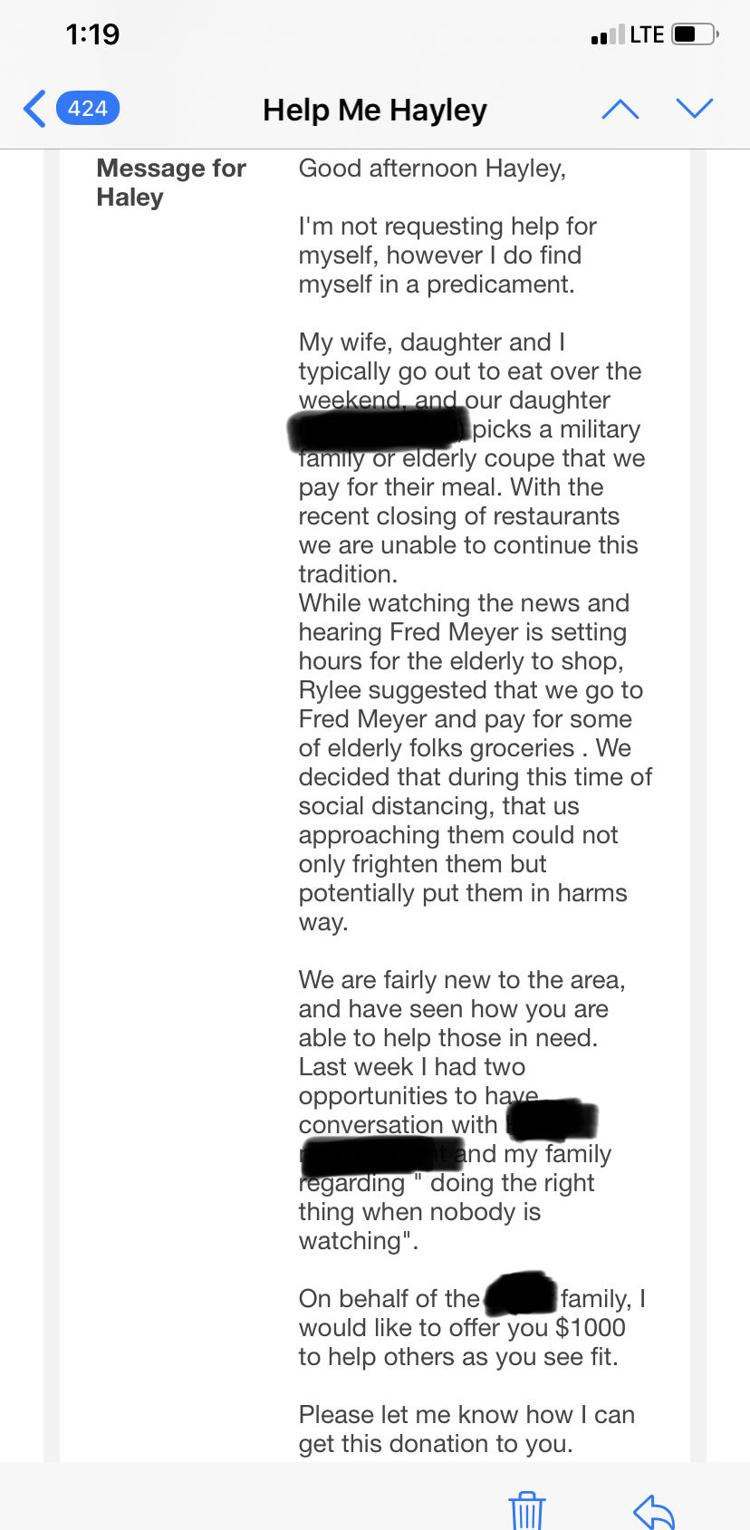 Hayley spoke with the man who wrote to her. He told her he didn't want any recognition, he only wanted to help.
"We just want to do whatever we can," he said. "We get our happiness from seeing other's happy."
And in order to make that happiness happen, Hayley reached out to a man that she knew would ensure the cash would make it to the right carts.
"It's super generous and kind," said Yoke's store manager, Chad Moses. "I know we have a lot of people coming in here shopping. Their funds are starting to drop off a bit."
And as the days in this uncharted territory tick by, the staff at Yoke's see their shoppers struggle more and more. They are working with their employees to distribute the funds to customers they know are struggling to get even the essentials right now.
The donor hopes this serves as a reminder to all of us. We all can help someone. It doesn't have to be a big financial donation. It can be a smile. A quick phone call. The family givnig this money hopes this will start a chain reaction. We need each other now more than ever.
"We will get through this together," he said.