SPOKANE, Wash. — A local grandmother wanted to surprise her grandson and daughter with some Halloween treats, but upon further review of her order, she now feels it's more like a bizarre trick. Images of the cute pumpkins she ordered were swapped out with images of 'creepy' pandas.
"My daughter and her son love Halloween," Mary Miller said. "And it's almost my daughter's birthday."
So many are already starting to celebrate and decorate the upcoming holidays. Miller wanted to make that easier for her family.
"I ordered some pumpkins from Amazon," she said. "They looked really cute and everything."

She thought they were perfect for her young grandson.
"There were these three pumpkins, they light up from the inside," she said. "They sing and tell jokes and stuff."
But now, she is not laughing.
"It just made me feel sick to my stomach, not only because it's a sick joke but because it's being delivered to my daughter and grandson," she said.
What exactly will be in that delivery has this grandma extremely nervous.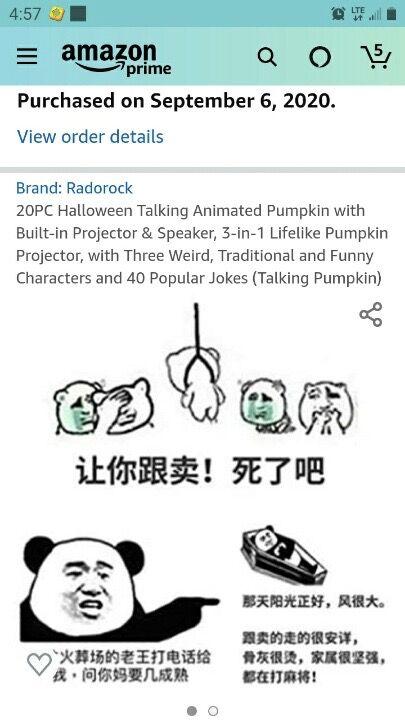 "The other day, I went to check to see if they are on their way," she said. "When I went to look at the pumpkins, it now shows these pandas. These adult pandas are crying and looking up and there is a baby panda hanging. Below, it shows a bigger panda with a human face pointing at a casket."
It is truly bizarre stuff. There is also some Chinese writing on the images. A translator told us the writing didn't make a lot of sense, but mentioned cremation.
Mary was so troubled by the strange deal. She wanted answers about all this.
"One of my girlfriends sent me your link and said, get ahold of Hayley," she said.
Hayley reached out to amazon who immediately began looking into it.
They replied with a statement saying, "Our store maintains content guidelines which third party sellers are required to follow. The seller removed the images in question and refunded the customer."
Experts recommend using caution when buying from a third party. Simply do your research and red reviews before making any purchases.