Update Jan. 13, 6:30 pm
SPOKANE VALLEY, Wash. - We are happy to report Zoe and her family have a happy ending after Zoe's custom wheelchair was stolen over the weekend. 
A neighbor found the wheelchair dumped near her property and when she saw Zoe's story on social media, she connected the dots. 
Zoe was reunited wit her wheelchair on Monday evening. Her family said they're so grateful for the coverage and the kindness of the community.
Previous Coverage:
SPOKANE VALLEY, Wash. -- A custom wheelchair was stolen over the weekend, leaving a 17-year-old girl devastated.
Zoe's mother says the wheelchair was taken from their apartment complex on North McDonald Rd. They had left it outside, right by their front door. They never imagined someone would stoop so low.
"(The wheelchair) is her access to the community," Zoe's mother Darci Ladwig said. "She is very isolated without it."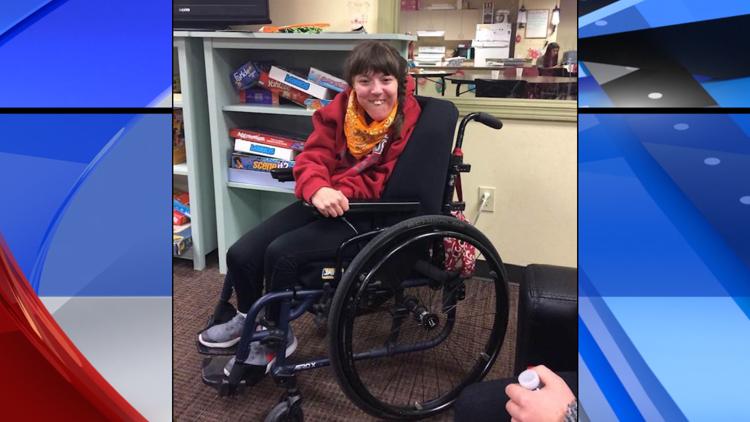 KHQ's Hayley Guenthner had multiple "Help Me Hayley" requests about the heartbreaking situation. Hayley learned the wheel chair was custom designed for Zoe's unique needs. It would be very difficult to replace.
"Zoe learned to walk when she was five," Darci said. "She had scoliosis/kyphosis surgery four years ago and is no longer an independent walker. She can walk with assistance, but (needs the chair). She relies on it for her bus. That is her favorite part of school."
Without the chair, none of the things Zoe loves to do are possible.
The family tells Hayley they followed tracks in the snow from where the crooks wheeled it away, but weren't able to trace it further.
If you have any information about the theft, please call Crime Check or send Hayley an email at Hayley@khq.com.