SPOKANE VALLEY, Wash. – A family is desperate for answers after their 12-year-old son was found badly hurt near McDonald and Wellesley on Sunday evening.
Joshua Glanville says his son Billy was riding his non-motorized scooter home from Plantes Ferry Park.
"He couldn't have been going very fast, it's a scooter…self-generated," he said. "The stretch (where Billy was found) is flat."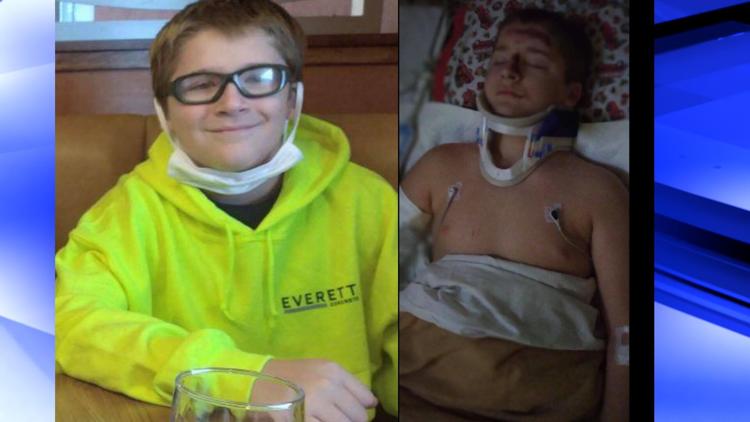 Family members say he was with a buddy who was a bit ahead of Billy. He briefly lost sight of his friend, and when he circled back, Billy was found severely injured.
"Both of my boys wear high visible jackets," Joshua said. "I bought them jackets like this because they go shovel snow...it gets dark so early. If a car did hit him…there is no reason a driver wouldn't have been able to see him."
Billy told his family he remembers leaving the park to head home, but his next memory is being in pain and loaded into the ambulance. It was at the hospital that Joshua says the family learned their son may have been a victim of a hit and run driver.
"He has injuries (consistent) with tire marks (they told us,)" he said. "And the bruise on his back indicates a bumper might have hit him. The injuries are just so severe."
There were no skid marks on the road and Billy's scooter is not badly damaged. The family wrote to our 'Help Me Hayley,' hopeful one of our viewers maybe saw something and can help them piece what happened together.
"Anyone with video or passing by…we just want to know," he said.
Joshua said his son will likely remain hospitalized for the next few days.
"He'll stay for observation," he said. "He has a fractured skull, and obviously with that, there is swelling and bleeding but there was no changed in the bleeding so we are optimistic about that."
Joshua said in addition to writing to Hayley to hopefully generate tips about what happened, he also wanted to remind parents of how precious each moment is.
"I hope if anything else, it does bring awareness to the subject and concern by parents," he said. "I hope a lot of children will get an extra hug. All of us parents take for granted that they'll always be with us. I'm blessed and very happy my son will recover."
If you saw anything Sunday evening between 4:30 and 5:00 near Wellesley and McDonald, please call SCSO, 2020-10160328.