You may have seen a meme floating around the interwebs this week, it goes a little something like this. 
Person: "There's no way you can have an entire winter's worth of weather in one week..."
Washington State: "Hold my beer."
If you're not up on meme culture, the "hold my beer" phrase roughly translates to "just watch me." And well, we've just seen an entire winter's worth of snow in the last 5 days. Hold my beer. 
Before February 8th it had been a very mild and dry winter. Exactly what we were expecting in an El Nino year. Up to that point we had seen a paltry 18.1" of snowfall in Spokane, nearly 10" below what we normally see through February 7th.  Temperatures had also been well above their averages in both December and January, which was the main reason we saw less snowfall. Most of the storms we had seen up to that point just brought rain or mix showers, with the occasional inch or two of snow at a time.
But on February 8th it all changed.
Our dry and mild weather pattern completely flipped. Cold air had started to rush in from Canada earlier in the week. Our daily high temperatures plummeted into the teens and low-20s. Our daily average temperatures were up to 20° cooler than they normally are.
And then the snow started to fall.
From last Friday (February 8th) to Tuesday of this week (February 12th), 17.9" of snow fell in Spokane. Nearly a foot fell on just Saturday and Sunday alone! And in a matter of 5 days, we nearly equaled the entire amount of snowfall we had seen all winter up to that point. All that snow completely erased our previous snowfall deficit, and we're now 1.6" ABOVE NORMAL snowfall, with an annual total so far of 38.6"! That's only 6.3" away from our annual snowfall average of 44.9", with still plenty of time to reach that number.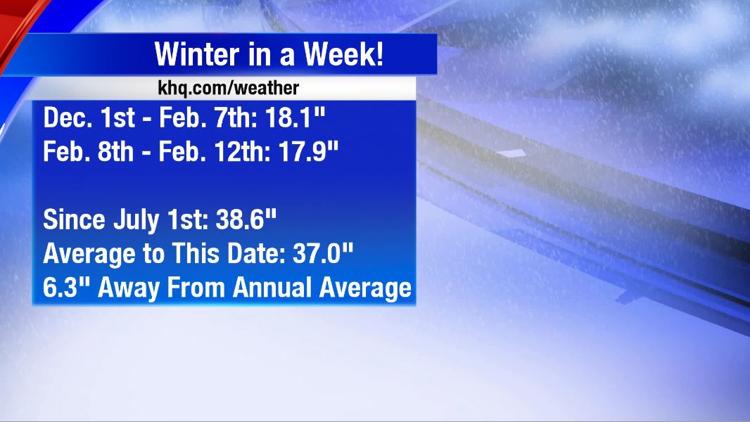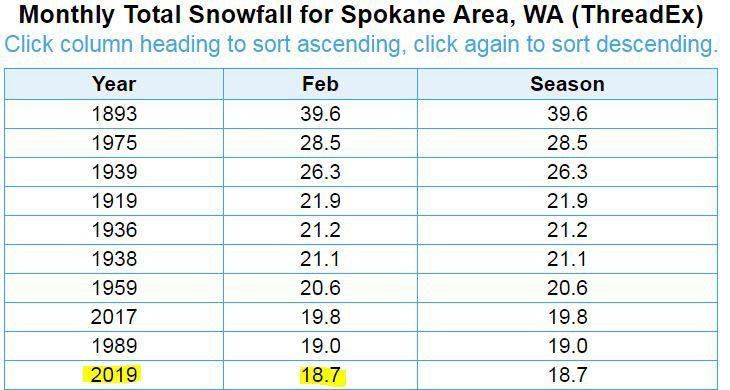 Now while this is all very exciting for a weather-nerd like myself, I do understand and acknowledge that THAT much snow in a short period of time can be a hassle. We've all been shoveling and snow-blowing non-stop since Friday, and the roads have been a mess at times. But if you're looking for a positive spin to our winter wonderland, just look to the mountains!
As the month of February started our mountain snow-pack was looking pretty bleak, especially in the Cascades of Washington. East of the Cascades it wasn't has bad, but we only had around 83% of our normal snow-pack for that time in the season.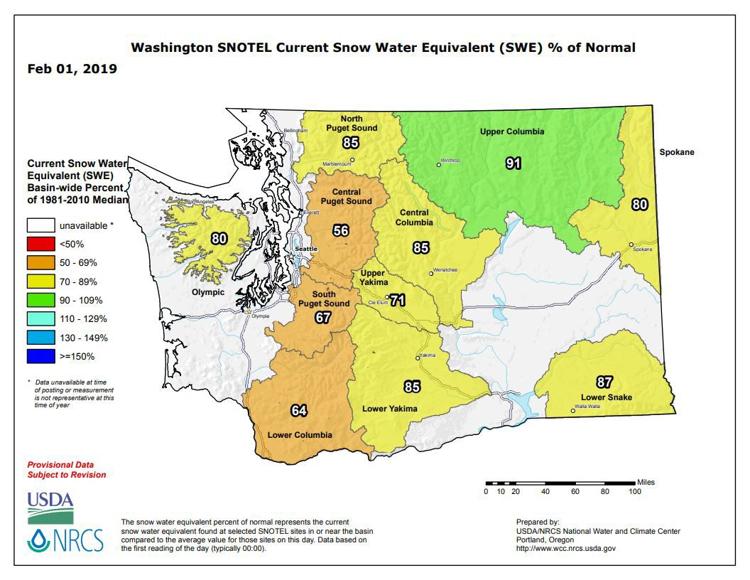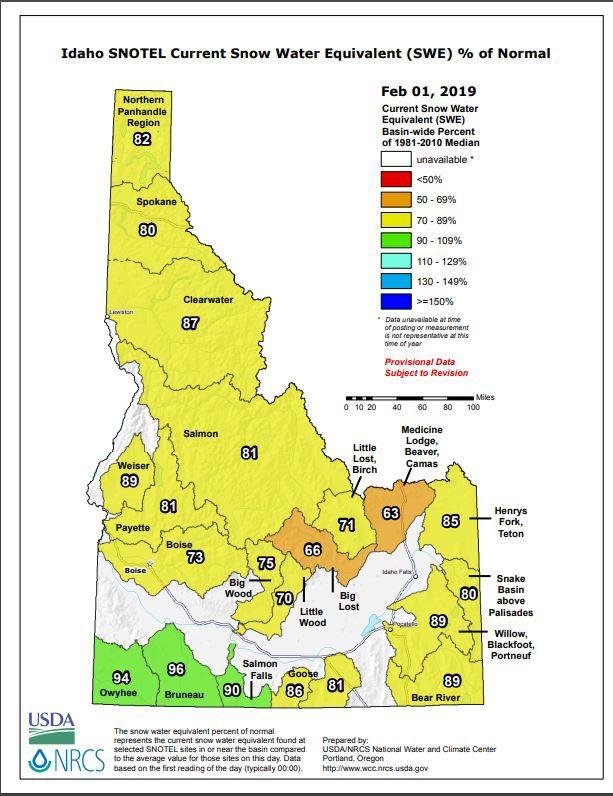 Now look at the updated snow-pack levels after the last 5 days! The Cascades are still a bit behind, but the water basins that impact our summer season in Central/Eastern Washington and North Idaho are all basically back up to normal levels! That is very good news as the winter season starts to wind down, fingers crossed, and we head towards Spring and eventually Summer!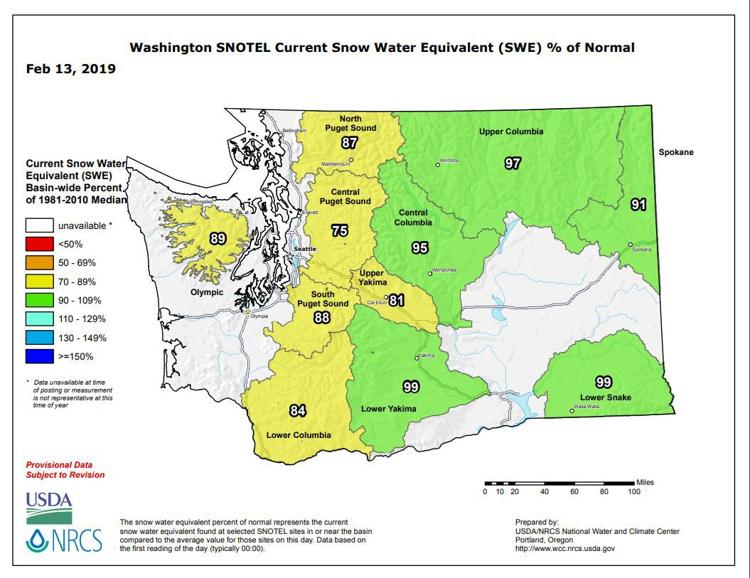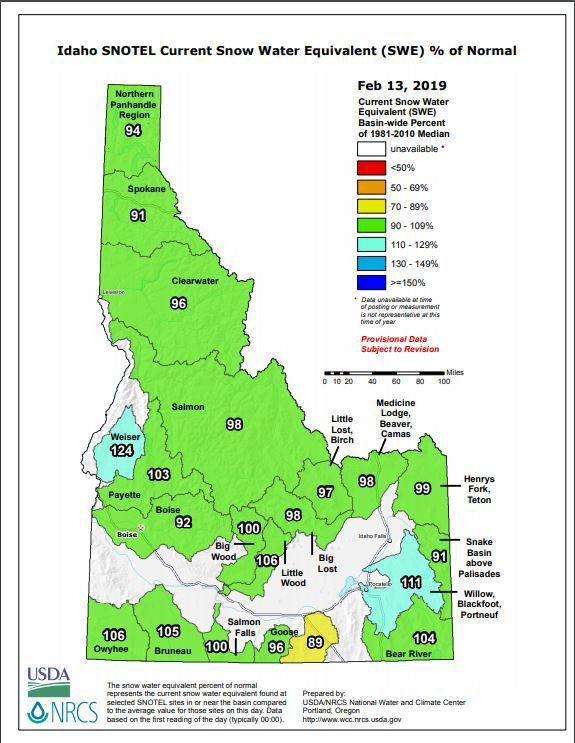 Maybe, just maybe, this late cold and snowy winter blast could set us up for a Summer with less fires and smoke. We'll just have to wait and see. 
-Blake