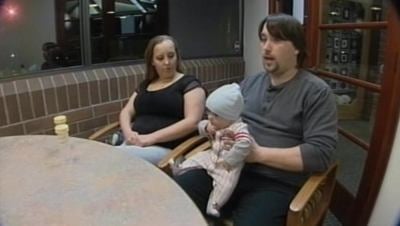 (Ashley and Jesse Love with their child, Julien)
BREMERTON, Wash. - The state Department of Early Learning is investigating a mistake at a Bremerton daycare where a baby was given the wrong mother's breast milk.
A spokesman says the staff has been instructed to better label bottles at the Sylvan Way Christian School.
Ashley Love says an employee told her about the mistake Feb. 17 involving her 3-month old son.
Pastor Eric Glomstad said the daycare director failed to report it in a timely manner. She has resigned.
"This little baby is my life," said Love. "He's everything to me and for someone not to tell me what's going on with him, it makes me very upset."
While breast milk has its benefits, doctors say it can pose certain dangers. Diseases such as HIV and hepatitis B and C can be passed through it, though the boy has been tested for hepatitis and HIV and both tests came back negative.
The Department of Early Learning said the daycare has a good record, but wants to make sure the series of mistakes doesn't happen again. It may mean more frequent monitoring of the facility.