SPOKANE, Wash. – The Northwest is known for it's natural beauty and support of the environment, so it shouldn't be a surprise that a Spokane couple is holding a recycling drive.  What is surprising is what they plan to do with the proceeds.
Story continues below...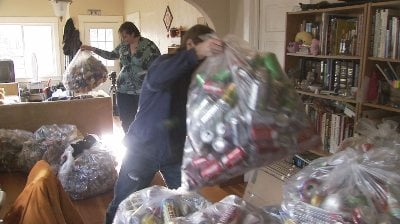 Peter Geyer and Andrea Parrish think collecting 400,000 cans by their July 31 wedding is possible
Peter Geyer and Andrea Parrish plan to collect $4,000 dollars worth of aluminum cans to pay for the wedding. The couple got engaged in October.
Since then, they've collected 16,000 cans, about four percent of the total they need.
"It's one of those ideas that slaps you in the head at 1 in the morning," said Parrish.
Parrish's fiancé has been collecting aluminum for years. Peter Geyer melts the metal in his backyard and uses the material for sculptures. Using some of the material for their wedding will help clear some of the "clutter" from their garage and protect the planet.
"Yeah, I won't say I was sad to get rid of the 80 pounds of aluminum that was stored in our garage," said Parrish. "Our real focus is mother Earth. It's our mother earth, she's the only one we've got, she supports us we might as well support her."
Geyer says the couple has received support from as far away as the United Kingdom.  They've taken calls from Mississippi, Las Vegas and even Canada.
"We don't need people to send us cans, per se," said Geyer. "We want them to collect cans in their community, maybe go buy themselves a coffee and then send us the rest."
The couple thinks collecting 400,000 cans by their July 31 wedding is possible.
"There's a lot of interest," said Parrish. "Our web site has crashed twice today."
People interested in donating recycling proceeds can drop-off aluminum at Instant Sign where Geyer works. They are located at 2nd Ave and Post St. in Downtown Spokane.  The couple has also created a web site for people interested in donating cans which you can view by clicking the link to the right of this story.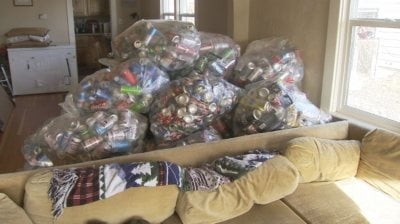 The couple has collected 16,000 cans, about 4 percent of the total they need