SPOKANE, Wash. - Gunshots being fired, followed by a Red Ford Expedition fleeing the scene were described by neighbors in a north Spokane neighborhood. 
While it may sound like the deadly drive-by shooting that happened on Wandermere Road Sunday, July 7, new footage obtained by KHQ shows an entirely different, but potentially connected, drive-by shooting. 
The Wandermere shooting took the life of 38-year-old Misty Hirsch, but the shooting on Friday, July 5, didn't result in any injuries. However, it may have involved the same getaway vehicle. 
The video shows the Expedition on a neighborhood street, followed by a popping sound before the vehicle speeds away from the scene.
It's not clear who's driving the Expedition in the video. However, law enforcement say they believe it's the same vehicle Jonathan Andersen was driving on Sunday evening when investigators say he shot Hirsch in the head.
Bullet holes can be seen in one home, which neighbors believe the gunman was targeting.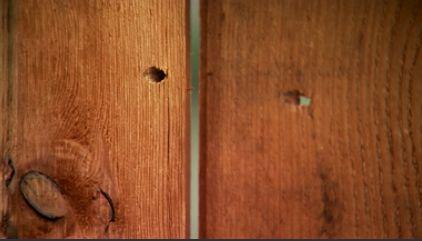 No one was hit, and neighbors tell KHQ's Joe McHale that the home is a nuisance house with people coming and going at all times of the day. 
Law enforcement have asked KHQ not to disclose the location of the earlier shooting, as it remains a very active part of the investigation.
This is an ongoing story that will be updated as more information becomes available.