SPOKANE VALLEY, Wash. - Authorities are investigating a DUI crash on I-90 in Spokane Valley that sent four people to the hospital early Monday morning.
Washington State Patrol says the driver, 18-year-old Ximena Delgado, was headed eastbound on I-90 in Spokane Valley when the car hit a barrier near the Evergreen exit and went through a chain link fence before coming to a stop near Nora.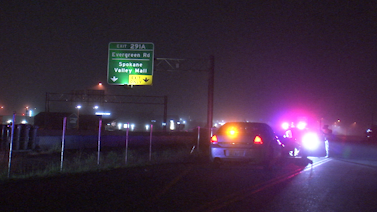 One passenger reportedly had a fractured skull, while the other said they didn't have feeling in their hands. WSP says Delgado and the other three passengers were each transported to Sacred Heart with injuries. The other three passengers included 18-year-old Anthony Burden of Ellensburg, 20-year-old Takarah Duncan of Spokane and 19-year-old Isaiah Hutton of Spokane Valley.
According to police, Delgado was intoxicated and faces charges for vehicular assault.
WSP added that no occupants in the vehicle were wearing seat belts.