A winter storm watch is in effect across much of the Inland Northwest, with 3-6" of new snow possible. Wind gusts could get as high as 45 MPH. Plan on slippery road conditions. Patchy blowing snow could significantly reduce visibility. Gusty winds could bring down tree branches. The cold wind chills as low as 25 below zero could cause frostbite on exposed skin in as little as 30 minutes.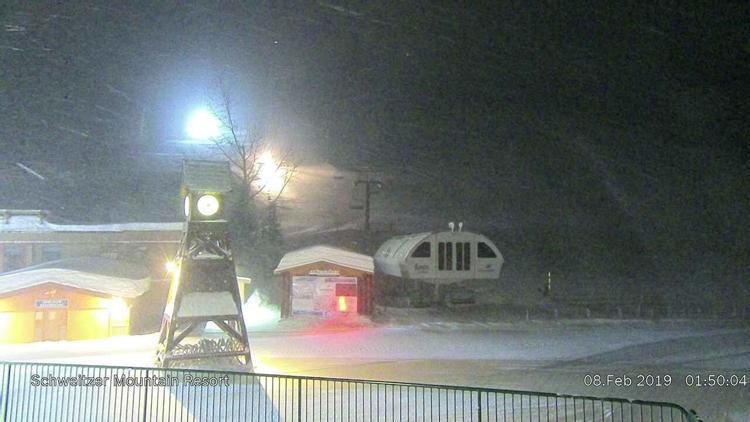 With cold air firmly entrenched over the west coast, a strong storm system dropping in from Canada looks to bring widespread impacts of snow, gusty winds and bitter cold wind-chill temperatures over the weekend. This storm will likely have a big impact on travel region-wide, with delays possible at airports, and blowing snow/icy roads for drivers. Below we outline how this storm is shaping up, and the impacts it could bring.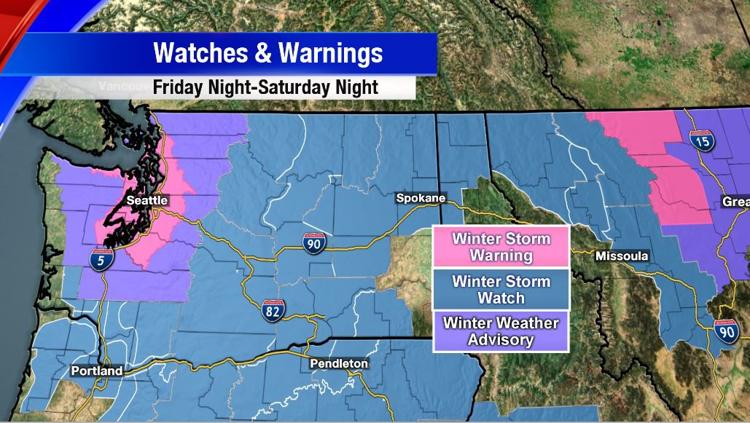 SNOW TIMING:  Thursday Night-Sunday
This storm will be dropping in from north to south out of British Columbia Thursday night and into Friday morning. Snow will start out as very light and very scattered early in the day on Friday. Snow will start to become more widespread during Friday afternoon, then become over Friday night-Saturday morning. That's when most areas will pick up the majority of their snowfall from this storm.
SNOW TOTALS:  These are preliminary estimates! When forecasting up to 4 days out lots of things could still change, but this is what we're seeing now!
With high temperatures not even coming close to the freezing mark, it's a sure bet that this storm will bring snow to most of the Inland Northwest, and most of the Pacific Northwest in general. The difficulty with the forecast is still exactly how MUCH snow. The general make-up of this storm is showing the heaviest snow to fall will likely be in Central Washington, from Moses Lake down to Yakima and up to Winthrop and west to the Cascades, with some areas possibly seeing up to a foot of snow from Friday-Sunday! Amounts will likely be less outside of those areas, but still enough to have an impact, with the average ranges around 3-6" from much of Eastern Washington and North Idaho.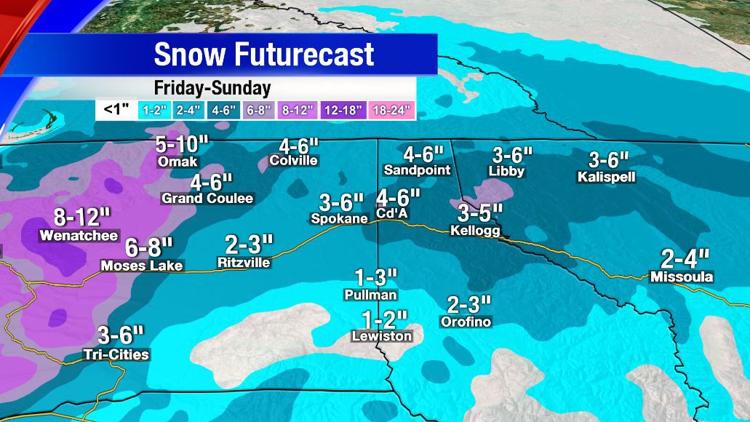 GUSTY WINDS:  Start picking up Friday night, strongest Saturday afternoon
North to northeast winds are expected to start ramping up late Friday night and peaking throughout the day on Saturday. Like earlier this week, the strongest winds will be funneled down the Okanogan Valley onto the upper Columbia Basin and the Purcell Trench in north Idaho from Bonners Ferry down to Couer d'Alene where steady winds could be between 20-25mph, with gusts up to 45mph possible. That wind will blow the snow around causing blizzard like conditions and visibility issues for drivers. It'll also make for bitter cold wind chill temperatures Saturday morning-Sunday.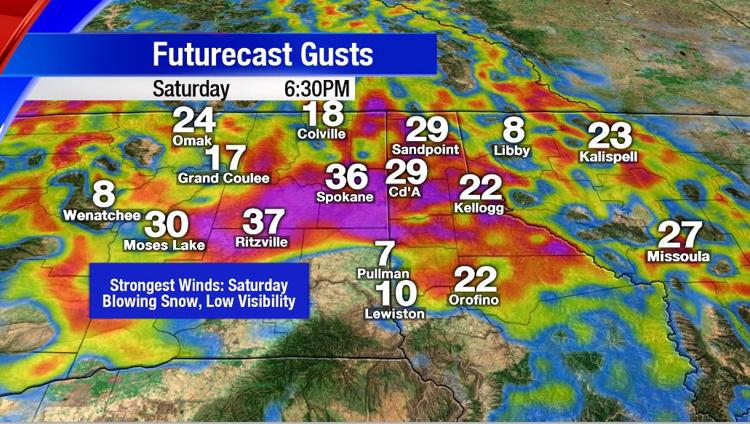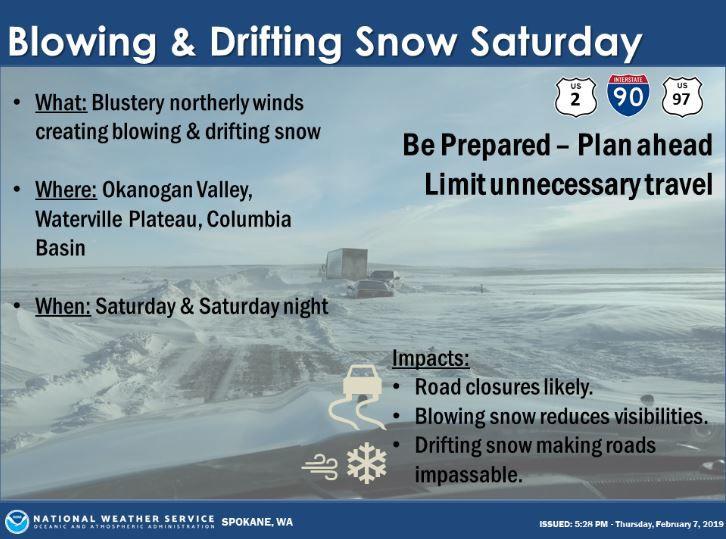 WIND CHILL:  Coldest Saturday morning-Sunday morning
The strongest winds will also accompany the coldest air into the Inland Northwest on Saturday. The combination of the two will make for extremely cold wind chills, or what it actually "feels like" on your skin. If the wind comes through as forecast, wind chill temperatures could fall to 5-15 below zero in the Spokane area, and even colder in the spots with stronger winds. The worst of it will be early in the morning both Saturday and Sunday. Make sure to wear LOTS of layers and cover any exposed skin if you will be outside for any period of time!