Update, July 6, 5:05 p.m.:
COEUR d'ALENE, Idaho - The Kootenai County Sheriff's Office (KCSO) has officially identified some of the victims of Sunday's deadly mid-air plane collision above Lake Coeur d'Alene.
Five of the six passengers of the Brooks Seaplane have been identified. According to KCSO, 58-year-old Neil Lunt from Liberty Lake was piloting the plane.
Sean Fredrickson, 48, from Lake Oswego, Oregon was also confirmed to be onboard as well as three juveniles confirmed to be Fredrickson's children and step children. 
Another man was also onboard the Brooks plane but he has yet to be identified.
The two occupants of the Cessna have also been identified but their names are still being withheld. 
Three victims have been recovered but their identities are not currently known. Their names will be released once the County Coroner positively identifies them. 
KCSO sonar and dive teams are currently working on recovering two more victims. However, water depth and their location within the wreckage are making things difficult.
Previous Coverage:
COEUR d'ALENE, Idaho KHQ is learning new information about the presumed deaths of eight people, who were involved in a mid-air crash between two planes on July 5, over Lake Coeur d'Alene.
Friends and family of the victims have taken to Facebook to remember their loved ones and express sadness about the tragic turn of events. According to the National Transportation Safety Board (NTSB), one of the planes was a Cessna 206 and on Facebook "Lewiston Airport Supporters" said it was flown by Jay Cawley and Kelly Kreeger.
The post, credited to Gary Peters, reads: "There are no words to describe how incredible Jay and Kelly were and how much they meant to so many. I already miss you both terribly. May God Bless you both and all of the families hurting this morning. Our Family is so fortunate to have been a part of both of your lives."
The other plane involved, according to the NTSB, was a de Havilland that flew out of Brooks Seaplane Base on Lake Coeur d'Alene and included six people. According to a Facebook post from Tim Upchurch, four of the people on board were part of his family.
Upchurch wrote, in a post credited to his daughter, "Many of you know that I lost my husband and beautiful children in a plane wreck over Lake Coeur d 'Alene yesterday. I am reeling from the loss, but take solace in the fact that they were on an adventure and so excited for their first sea plane ride. Thank you for all of the love and support. It truly does help. I know that they each touched many lives and that our entire LO and Tualatin community will be grieving. Please know that we had a wonderful family weekend and an opportunity to spend time together. Thank you for keeping me in your prayers."
Friends of the Upchurch family are also posting about the deaths of the father, identified on Facebook as Sean Fredrickson, as well as his three children. One friend wrote in a public Facebook post: "Unbelievable grief and sadness, broken hearts... We cant even express in words how much we will miss Sean Fredrickson. An amazing individual, Friend, Mentor and true Ambassador for the PGA of America. You will be in hearts forever... So much love directed to you and your family."
Fredrickson's wife, and mother of their children, updated her own Facebook page with a picture of her lost family. The family lives in Lake Oswego, Oregon and Sean worked as the head Pro at the Oswego Lake Country Club.
Fredrickson's boss also sent us the following statement: 
"The loss of Sean Fredrickson and his children Hayden, Sofie and Quinn is devastating. Sean was an exceptional Golf Professional who was awarded the PGA Professional of the Year honor in 2019 by the Pacific Northwest Section PGA. Oswego Lake Country Club was honored to have him as a member of our family. His positive spirit and joy for the game of golf was contagious.
But more importantly, Sean was a tremendous husband, father and friend. Our love and heartfelt sympathy goes to his wife April, his family and friends during this time of loss."
At this point the Kootenai County Sheriff's Office said three bodies have been recovered from the crash. Two more bodies have been located but have not been recovered. Three people are still missing, but are presumed dead.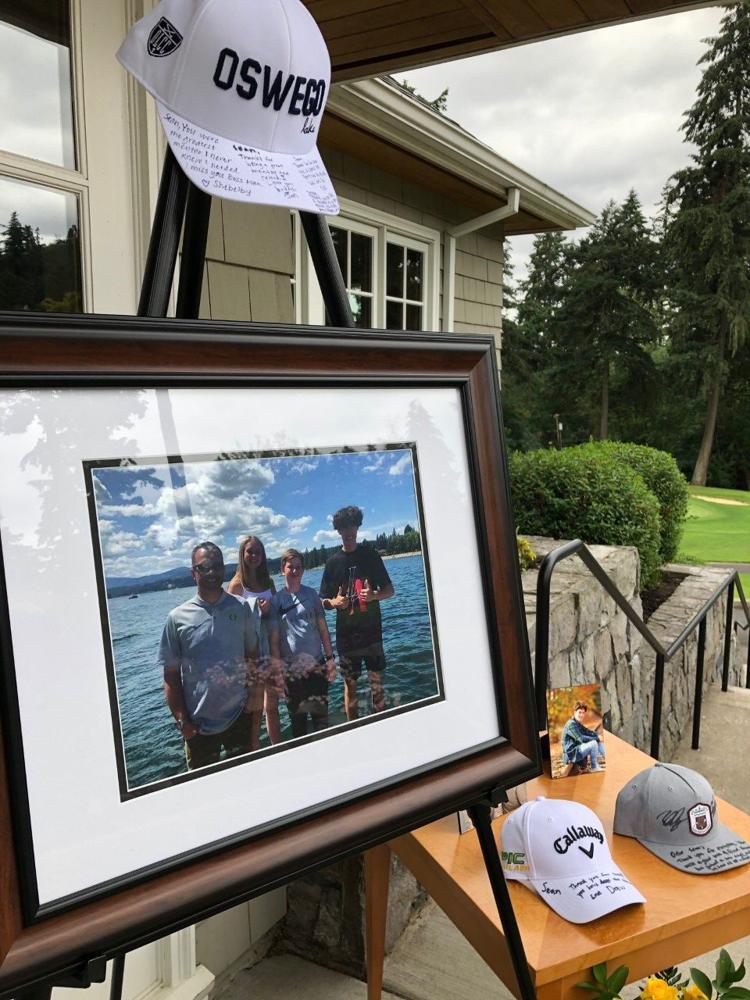 The Sheriff's office is still investigating what happened. Witnesses described seeing the planes hit in mid-air, and then crash into the water. KHQ has been in contact with the NTSB. They say two investigators are expected to be in Coeur d'Alene Monday evening. They'll be looking at pilot records, maintenance records, and conditions at the time of flight. Once the aircrafts have been recovered they'll be able to do a more thorough investigation.