"I just did it on a whim," Moses Lake resident Jeremy Thornton said via Zoom Thursday morning. "It was off the cuff. I was just going to be simple and honest."
Simple and honest is a great way to start off any relationship, or in Thornton's case, find a relationship again. 
Last year right before the height of COVID, Jeremy says he met a woman named Danielle. 
"She just kind of blew my mind like, 'Oh, I found a diamond in the rough,'" Jeremy said. "We'd been out a few times on the town and really enjoyed each other's company."
Jeremy says they were taking it slow but still keeping in touch through texts, but it was a text - a photo he was in the process of sending Danielle - that abruptly ended their relationship before it ever really began. 
"I'm out kayaking and I go and drop my phone in the lake and immediately lost all of my contacts, hers included," Jeremy recalled. 
But wait. It's 2021. Even with a new phone number (and no idea what her number is), everyone is online. It should be easy to find Danielle, right? 
"I don't do Facebook, like at all. I've never been on Facebook," Jeremy said. "I did a little bit of sleuthing. I tried to find her on Instagram and LinkedIn. I had friends try to track her down on Facebook." 
With a common last name, Jeremy had no luck. 
He had inadvertently ghosted Danielle. 
"Yeah, at a very inopportune time," he said. 
A possible missed connection and racing thoughts of "what if" raced through Jeremy's mind for months. 
"As the winter passed on, I found myself just continuing to think about her," he said. 
So a couple of weeks ago, while visiting a buddy, Jeremy decided to reach out to Danielle again. This time in a much more old school kind of way. 
"As soon as I hit town, I bought the supplies and made a little sign," Jeremy said. 
He then wrote down his message. 
"Danielle, the days we shared last summer still echo in my mind. Your number disappeared along with my phone! it fell from my kayak as I tried sending you a picture. I'd love to hear from you again. - Jeremy"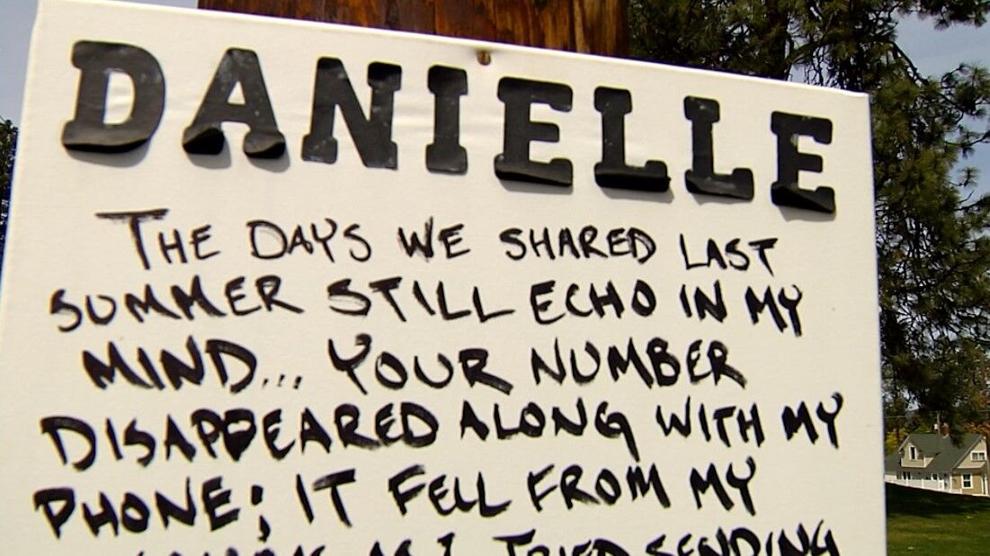 With a phone number attached, with hope and a nail, Jeremy put up the sign in a very specific location. 
"At the park where I saw her last and maybe she'll be walking her dogs and spot it and we can reconnect that way," he said. 
The sign has been up for nearly two weeks, but still no word from Danielle. 
"I didn't really expect to get much traction from one random sign," Jeremy said. "Certainly not this public forum to embarrass myself"
However, if Danielle does see it and is indeed up for at least catching up, a little embarrassment is an easy trade in Jeremy's eyes. 
"If it means I get to talk to her and at least know she's doing alright, then it's well worth it for me." 
So if you're the Danielle Jeremy is looking for, and you would like to hear from him again, his number is posted on the sign next to the park where you two had a picnic last year. If you can't make it down there and still want to connect, shoot me an email at cory.howard@khq.com and we'll see what we can do about getting you two back in touch.