Update: 5:00 p.m.
SPOKANE, Wash. - Based on tips and complaints KHQ received, we investigated an alleged homeless campsite in a North Spokane shopping plaza parking lot on Nevada Street.
The major concern involves two RV/campers and large crowds surrounding them. When we knocked on one, a man named Eugene Hayes opened the door.
"I want to go back to Idaho. I hate this place," he said.
Hayes is from Caldwell, Idaho, and said he just wants to get back home. He said he was visiting family a few weeks ago, when the brakes on his camper stopped working. He's been having trouble finding the specific brake rotors for his camper, which is detailed in the photo below.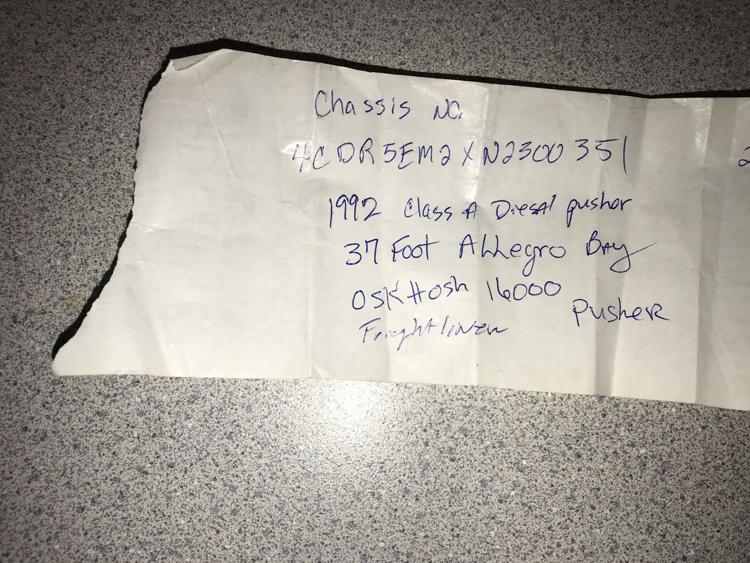 "I'm not trying to deal drugs. I'm not trying to encroach on someone's property. I just need to get my motor home fixed," he said.
Hayes is currently living in his camper with his wife and three dogs, but he claims he isn't homeless and owns property in Idaho. He said he's befriended several homeless people, who have approached him to ask what he's doing in the lot. He learned that many homeless people tend to stay in the lot (a claim also shared by business owners and employees), and he's upset that many are assuming he's homeless, too.
"Anywhere in Spokane we went, they're just like 'Get out of here, you Spokane scum!' No, that'd be Idaho scum. Look at the license plate," Hayes said.
He claims homeless people have stolen several of his bikes (worth thousands of dollars), slashed one of his tires, and litter around the lot.
"I've tried picking up and cleaning up as much as I can, but it doesn't even look like I've done anything," he said, while looking at the littered-area surrounding his trailer.
"The general public needs to understand there's a massive homeless problem here, and it's not going away," Hayes said.
Hayes also claimed he doesn't use drugs, but there's a warrant out for his arrest in Idaho, according to the Couer d'Alene Press. The charges include giving false information to law enforcement, possession of drug paraphernalia with intent to use. 
Spokane Police said the best way to resolve issues like this is to get in contact with your Neighborhood Resource Officer (NRO), and also report any incidents/complaints to CrimeCheck: 509-456-2233.
Previous Coverage:
SPOKANE, Wash. - Multiple complaints have been made regarding a homeless camp set up in a North Spokane shopping plaza parking lot on Nevada Street.
KHQ received the following tip:
"We have a horrible homeless situation. I own a business on the northside of Spokane and they literally are camped out in the WinCo parking lot off Nevada. The homeless people have more rights than the tax payers... They are camped out, living outside of my business. They have been there for weeks and all of the businesses around hands are tied."
The business owner asked to remain anonymous. A manager at a different business (located on the same plaza) also asked for anonymity, but agreed to sit down with us and repeated the same concerns the business owner, who gave us the tip. Both anonymous sources told us:
Campers and trailers have resided in the lot for about two weeks
Both have called the police and property managers, who told them they're working to resolve the issue
Both believe drugs/narcotics are being used, and possibly sold
Both are concerned for their businesses, including the safety of their employees
Our initial investigation revealed at least four instances when police were called to the scene and one person was arrested on an outstanding warrant. 
We took these concerns and approached the trailers ourselves, and were surprised at what we found out.
The full story will be airing on KHQ tonight at 6.