SPOKANE, Wash. - A Lake Spokane Elementary student got one of the biggest surprises of her life during a school assembly on Friday. A familiar face in the crowd made sure it was a Veterans Day weekend to remember.
Serin Cunningham is a fifth grader at Lake Spokane Elementary whose sister is in the armed forces. Thoughts of her sister weren't far from Serin's mind as she sang patriotic songs with her classmates in the school gym during an assembly to honor veterans.
Serin's older sister, senior airman Kylie Romo of the United States Air Force Security Forces, has been deployed overseas and other places far from home. The last time the sisters saw each other was a year ago.
"She just came back, so she doesn't have leave," Serin said. "She can't come home yet. She can come home in January."
The family had planned to go on vacation together, but the sisters' mother Kelly Cunningham says those plans had to be changed.
"When she got back from deployment, it didn't actually work out," Kelly said. "I was really bummed and told the whole family that she wasn't able to come home at all."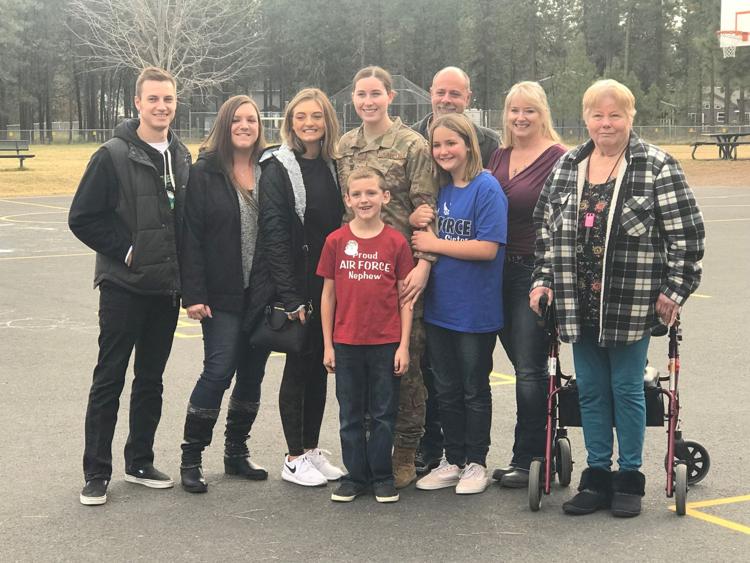 Serin had no idea of the surprise that was waiting for her when she walked into the gym. She was called to the front of the assembly and saw Kylie walking toward her in uniform. She froze from shock, then ran to her sister and jumped in her arms.
Lake Spokane Elementary principal Tim Smith says it's been a nerve-wracking two weeks of working with the family to pull off the surprise. He says seeing Serin's face when Kylie walked out was priceless.
"I can't imagine what it would be like to have a sibling deployed," Smith said. "Just knowing that we got to bring this opportunity for her to make it happen, it was just awesome. It was just one of the coolest moments of the year.
Right now, Kelly says Kylie is stationed at Tinker Air Force Base in Oklahoma City. Her family says she also served in the Middle East, and they know the call to move again could come any day. It's an unpredictable life, and they treasure every moment together.