Update 6/6 9:11 pm
KHQ reached out to the Spokane Regional Health District for comment on Mead's plan to bring kids back to the classroom.
According to Washington's Administrative code, local health officers have the authority to take emergency measures to stop the spread of communicable disease. 
Spokane's health officer has only issued a recommendation that districts start online. However, he could change that. 
UPDATE 6/6 6:19pm: 
The Mead school district has released more details about its plans for fall. According to to a new release, families will have daily in-person learning for grades K-5 and a rotating in-person schedule for grades 6-12. Additionally, a full online-learning option is available for all grades. 
"Our families overwhelmingly are asking for options," Superintendent Shawn Woodward said. "There is no one approach that fits the needs of every family or student. The Mead School District is empowering families to choose the learning option that works best for them." "Safeguarding the health and wellness of students, teachers and staff is fundamental," Woodward added. "We are putting in place enhanced health and safety protocols that meet or exceed the guidelines issued by OSPI." 
When considering their options, the board considered not only the risks of COVID-19, but also considered the risks to keeping school closed. The release said in part: 
The CDC's best evidence indicates that COVID-19 poses relatively low risks to school-age children and that they're far less likely to suffer serious symptoms. The CDC also recommends that school districts consider all the benefits and risks of in-person and virtual learning options, in addition to any risks related to COVID-19. Those risks include the harm attributed to closed schools on children's social, emotional and behavioral health. They also include the disproportionate harm caused to students with disabilities, students from lowincome families, and others when in-person learning options are unavailable.
You can read the full release from the Mead School District here
UPDATE 8/6 5:33pm: 
Thursday night the Mead School Board approved in-person instruction for Kindergarten through grade 5. For grades 6 to 12, the district approved a plan that includes a mix of in-person learning and online learning. 
Parents will still have the final choice about how their children learn in the fall. If parents are not comfortable sending kids back to school, there will be an online-only option. 
Under the current approved plan, Kindergartners through fifth graders will be going to the classroom every day. 
Sixth graders through 12th graders will be more of a hybrid model, going to class part of the week and then spending the other part of the week learning online at home.  
During the meeting Thursday night Superintendent Shawn Woodward asked if the School board could vote to delay the start of school for about two weeks. 
A vote on that may be held on Monday. 
Previous Coverage: 
MEAD, Washington. - The Mead School district will present its reopening plan to the School Board this afternoon. Tonight's school board meeting follows recommendations by the Governor's office and state health department that districts in most Washington counties begin the year online. Spokane County is considered "high risk" and if they followed the governor's guidance, Mead would start online. You can listen to the school board meeting by dialing 1-669-900-6833, entering the Meeting ID: 853 4967 8183 and then using the Password: 752891.
Following the July 20th, 2020 school board meeting, Mead Superintendent Shawn Woodward's message was clear: Mead wants 100 percent of their students back for face-to-face instruction this Fall.  On July 17, Superintendent Woodward sent a letter to parents outlining three options for reopening (CLICK HERE TO READ THAT LETTER). During the July 20th school board meeting, Mead's reopening teams detailed those options. 
If Mead is approved for face-to-face instruction, or a hybrid model, here are some of the changes they discussed during that July 20 school board meeting: 
Daily/Weekly health screenings for all staff and students 
Dedicated entry points/Assigned seating to facilitate contact tracing 
Enhanced cleaning throughout the facilities
All faculty, staff, and students will wear masks
Hand sanitizer and wipes provided in each classroom and used frequently
Classroom seating that maintains social distancing guidelines 
Dedicated isolation room in each school building 
Here are Mead's Reopening Options, as outlined in that July 20 school board meeting:
Face-To-Face Instruction: If approved by the state and/or local health board Mead would bring nearly all students, K-12, back to a classroom every day.
K-5 will be back in the classroom every day
Specialist teachers will travel to classrooms
Boxed lunches to be eaten in classrooms
Mead says they are exploring lengthened and structured recess with PE 
 Split Schedule: If Mead cannot bring back all students at once, they will implement a split schedule. 
Grades K-2 will attend M-F or M, T, Th, F 
Grades 3-5 will be split into two groups (either alphabetically or by neighborhood) to attend school in person at least twice a week
Group A will attend M, T and Group B will attend Th, F. On Wednesday both groups will complete online assignments
When not at school, students will be expected to log in to their Google Classroom to complete assignments, and be able to access Music, PE, Library 
See below for a sample of what a K-5 student's "Distance Learning" day could look like: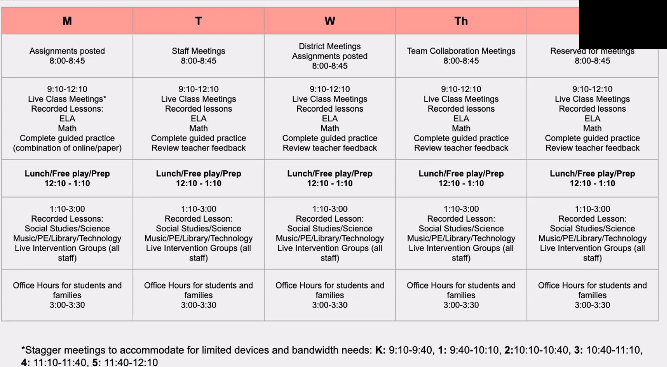 Distance Learning: If face-to-face instruction and a split schedule are not an option, Mead will continue a virtual learning experience.  
K-5 students will take part in a live morning meeting with their teachers (Staggered to accommodate device/bandwidth issues) 
Each day students will take part in a recorded Core lesson (English/Language Arts, Math, Science/Social Studies) 
From 3-3:30pm teachers will be available for a live, virtual "Office Hours" 
Spokane Public Schools, Cheney Schools and the Central Valley School District have already announced plans to start online. West Valley says they are wholly basing their plan on the state's fewer than 25 cases per 100,000 over two weeks criteria. Spokane County has not met that threshold since May. Right now the Department of Health lists Spokane at 215 cases per 100,000 over two weeks. While it's possible to do hit the state threshold before school starts, it's unlikely. East Valley is announcing their plans tonight at 6 p.m. At 5:30 p.m., Cheney Public Schools is holding a webinar for parents of students with special needs to discuss their options. Spokane Public Schools is also hosting a webinar to delve into details of the reopening plan tonight at 6:30pm.
Correction: This story originally included an incorrect phone number to call into the Mead School board meeting. It has since been updated with the correct number.