SPOKANE, Wash. - Forecasters are expecting snow to return to the Inland Northwest beginning Wednesday night, with the Spokane/Coeur d'Alene area accumulating as much as 3 inches and some spots in northeast Washington and North Idaho seeing six or more. However, things could transition into a wet and rainy weekend.
The National Weather Service says snow is likely to begin later Wednesday night, accumulating around an inch by Thursday morning and possibly another inch before Thursday afternoon.
There is heavy mountain snow expected, which can cause some significant travel impacts for those looking to use mountain passes particularly from Wednesday-Friday.
East Pac weather systems will impact the Cascades Wednesday into the weekend. WED AM through FRI AM, the Cascade could see periods of moderate to heavy snow over the higher elevations. Be sure to plan accordingly and continue to monitor the forecast for updates.#wawx #idwx pic.twitter.com/Msjs4WtjMy

— NWS Spokane (@NWSSpokane) December 17, 2019
The precipitation is then expected to transition into rain beginning Thursday night through the weekend in lower elevations.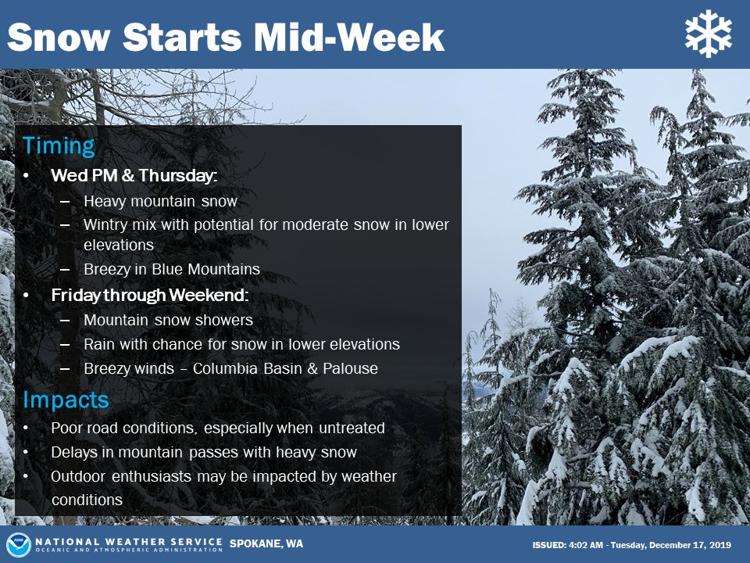 Drivers are asked to be cautious of road conditions, particularly when they are untreated. Here are some tips to keep your car prepared for winter conditions.
Northern parts of the Inland Northwest could see several inches of snow through the second half of the week, including a possible six inches in Sandpoint and/or Bonners Ferry as well as 8-12" in Republic or 12-18" in Winthrop.