Update Jan. 23, 1:55 pm:
SEATTLE - One person has been arrested following a deadly shooting near Seattle's Pike Place Market.
In a press conference Thursday afternoon, Seattle Mayor Jenny Durkan, Seattle Police Chief Carmen Best and Seattle Fire Chief Harold Scoggins gave an update on the shooting. They confirmed that one person was arrested from Harborview Medical Center after the shooting. The person also had a gunshot wound but was determined to be a shooter.
Two other suspects remain on the run. All three suspects in the shooting are well-known to law enforcement with extensive criminal backgrounds, according to Best. Detectives were able to identify them from surveillance footage of the incident.
Eight people were shot in the incident Wednesday night, including the suspect who was arrested. One woman was pronounced dead at the scene while the other seven people were taken to Harborview.
Four of the injured people have since been released and three others remain in the hospital.
Update Jan. 23, 9:50 AM
Seattle Police Detectives have identified two suspects from a deadly shooting in Seattle Wednesday night.
Seattle PD says the two 24-year-old suspects, Marquise Latrelle Tolbert (6'1" 200 lbs) and William Ray Tolliver (6'0" 145 lbs), are both considered armed and dangerous.
Anyone who sees them or know of their whereabouts are asked to contact 911 immediately.
3RD AND PINE UPDATE: Detectives have identified two suspects in yesterday's shooting. Marquise Latrelle Tolbert (age 24, 6'1" 200 lbs) and William Ray Tolliver (age 24, 6'0" 145 lbs). Both men are considered armed and dangerous. Call 911 if you see them or know where they are. pic.twitter.com/vgg7Uez3zN

— Seattle Police Dept. (@SeattlePD) January 23, 2020
Update Jan. 23, 6:00 AM
Three of the seven victims in Wednesday night's downtown Seattle shooting remain in care at the Harborview Medical Center, with one's condition reportedly improving overnight.
Harborview says a 55-year-old woman's condition has been updated to serious (previously critical) and is in intensive care.
The other two patients, a nine-year-old boy and 32-year-old man, are both listed in satisfactory condition.
The Seattle Police Department continues to investigate and search for at least two suspects from the shooting.
"Even one incident of gun violence is one too many," Seattle PD Chief Carmen Best said. "We will relentlessly investigate tonight's shooting at 3rd and Pine until all those responsible are brought to justice."
There is an increased police presence around the area of the shooting Thursday morning.
Before the shooting, Seattle PD says it already had more officers for "emphasis patrol" in this part of downtown Seattle. Residents living in the area say they've noticed the increased police presence, even on 3rd & Pine, where the shooting happened. pic.twitter.com/RMX1f2ANmI

— Kevin Kim (@NewsWithKevin) January 23, 2020
Update 10:10 P.M.
Seattle Police Department are looking at least two men in connection with Wednesday night's shooting on Pine Street between 3rd and 4th Avenue.
According to police, witnesses saw two or more male suspects in a disturbance and began shooting at each other before fleeing the scene. 
According to Harborview, the 9-year-old victim improved to satisfactory condition, one man in satisfactory and one woman in critical. Four patients were treated and released.
Anyone with information about the shooting is asked to call the Seattle Police Department's tip line at (206) 233-5000.
PREVIOUS COVERAGE 9:00 P.M.
According to Seattle Police, the shooting near Pike Place on Wednesday that killed one and injured seven is not a random incident. 
According to Chief Carmen Best, said multiple people were involved with a dispute in front of McDonald's. 
First responders transported five victims to Harborview Medical Center with an additional two patients who transported themselves. 
According to police, a 50-year-old woman is in critical condition with a 9-year-old boy in serious condition.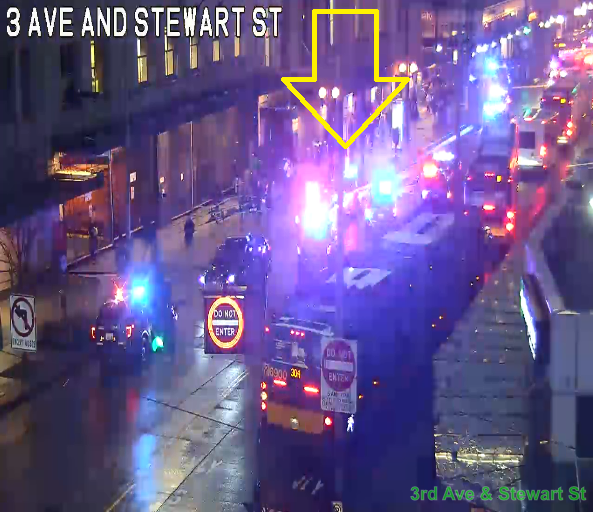 The other five patients are in stable condition. 
According to Harboview, victims are injured in the legs, glutes, chest and abdomen.
Police are still working to find the suspect. 
PREVIOUS COVERAGE: 
According to Harborview Medical Center in Seattle, they have received seven people who were injured during the shooting with at least one dead.
According to KIRO 7, one of the seven is in critical condition with another victim being a child. 
The person who died is reportedly a woman between the age of 40 and 50.
PREVIOUS COVERAGE:
The Seattle Fire Chief is reporting that one person is dead and five are in critical condition after a shooting near Pike Place Market in Seattle. 
According to KIRO 7, the shooting happened near Third Avenue and Pine Street before 5 p.m.
PREVIOUS COVERAGE:
SEATTLE - Seattle Police are investigating a shooting near Pike Place Market Wednesday evening. 
According to KING 5, Seattle Police are reporting multiple victims associated with the shooting but their conditions are unknown at this time. 
The Seattle Fire Department is asking people to avoid the area near 4th Avenue and Pine Street. 
A suspect has fled the scene and police are searching for them.