A study details a concerning gap between wages and affordability for renters in not just the Spokane area, but several Inland Northwest counties, the states of Washington and Idaho as well as the entire country.
The National Low Income Housing Coalition released its 2019 "Out of Reach" report, detailing that just about every county in the U.S. lacks an adequate supply of affordable and available homes for low-income renters.
"The average hourly wage among renters is $14.32. The housing wage is $18.79. This means affordable housing for low-income renters is still OUT OF REACH," the report summarized. The study found that the average hourly wage needed in the U.S. to afford a two-bedroom apartment is $22.96.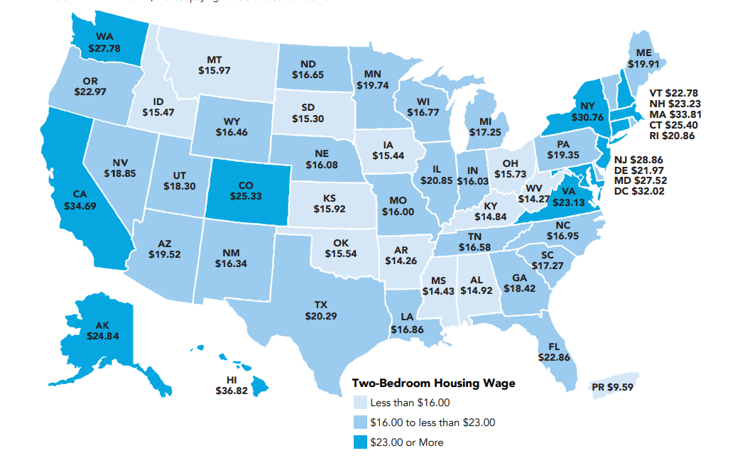 Washington ranks as the seventh-most expensive state to live in for two-bedroom housing wages at $27.78, while Idaho is one of the least expensive with $15.47 to rank 44th.
Regardless, both those housing wages sit well above the minimum wages of $12 in Washington and $7.25 in Idaho. Both Washington and Idaho's average two-bedroom housing wage in fact are both over double the respective state's minimum wage.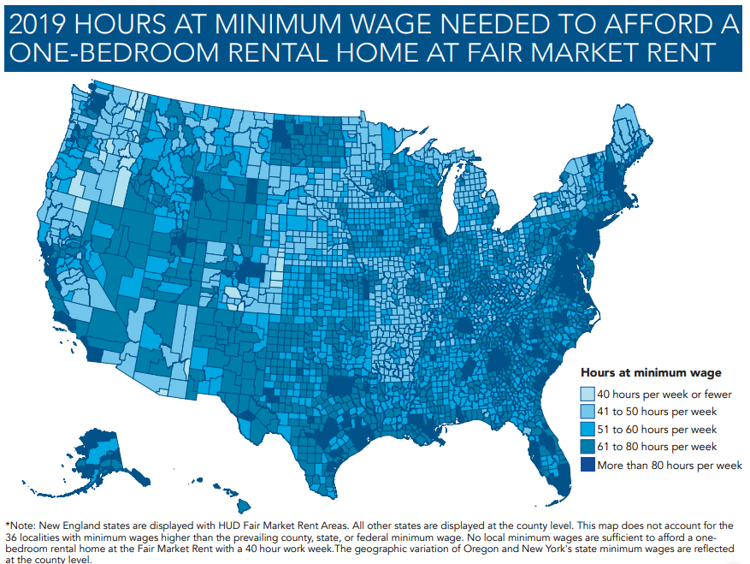 The Spokane Metropolitan area requires an hourly wage of $17.02 to afford a two-bedroom rental, and would require 1.4 full-time jobs at minimum wage or an annual income of $35,400 to afford a two-bedroom rental.
With over 73,000 renter households from 2013-2017, accounting for 38% of the county, the monthly affordable rent for a renter making an estimated hourly mean wage of $13.76 would be $715. The fair-market rent (FMR) for 2019 in Spokane however sits at $885.
Among other counties in Washington, Garfield ($13.46) and Lincoln ($13.46) have the smallest gap between hourly wage needed to afford a two-bedroom rental and the minimum wage of $12 in the state. The Adams, Stevens and Pend Oreille Counties each require over $14 in hourly wages to afford two-bedroom rentals, while all other counties in the region and state surpass $15 for the requirement.
In Idaho, The Coeur d'Alene Metropolitan area is one of the most expensive, requiring a $16.35 wage to afford the average of $850 for a two-bedroom FMR. That would require an annual income of $34,000 or 2.3 full-time jobs at minimum wage.
The estimated hourly mean renter wage in the CdA area is $12.75, meaning over 17,000 renter households from 2013-17 could afford monthly rent of $668.
Several other North Idaho counties are among the same trend, with all requiring over a $13 hourly wage to afford a two-bedroom rental. On top of that just about every Idaho county would require just under or more than two full-time, minimum-wage jobs to afford the two-bedroom FMR.
The full report certainly paints the picture that it is getting tougher and tougher for renters to realistically live paycheck to paycheck.
"The 2019 Out of Reach report shows that in 99% of counties in the U.S. a full-time minimum-wage worker cannot afford a one-bedroom rental home at fair market rent," said Diane Yentel, NLIHC president and CEO. "Our rental housing needs have worsened considerably over the past 30 years, leaving housing out of reach for millions of low-wage workers. But members of Congress are starting to take note: a number have introduced big, bold bills to address the nation's affordable housing crisis. The topic of affordable housing is also becoming increasingly prevalent on the 2020 presidential campaign trails. We now have a tremendous opportunity to implement federal housing policy solutions to fund affordable housing programs at the scale necessary. We must use tools like Out of Reach to build the political will."
To look at more info on the Out of Reach report or take a closer look at your Metropolitan area or zip code, follow this link: https://reports.nlihc.org/oor.