In my experience, most old houses come with their own distinctive creaks and moans. The house I grew up in was built in the 1920's and although looking back I don't think it was haunted, when you're a little kid, those unexplained noises can definitely keep you up at night. 
With Halloween approaching, now is a perfect time to talk about haunted houses.
We talked to a local realtor who said in the State of Washington, they are not obligated to tell potential buyers if someone has died or been murdered in a house. He also said they do not have to tell you if a house has been reported as "haunted." If you want to know if someone died in your house, there is a website for that. I can't speak to accuracy of the site because they wanted money to tell me if someone had died in my house. I think ignorance is bliss, so I'll go on not knowing.
There are some red flags to be looking for when buying a home. For instance, if a home advertised for five figures in a six figure neighborhood, or if there have been 20 owners in the last three years. These examples don't necessarily mean the house is haunted, but it is something to keep an eye on and ask about. 
But let's say you want to buy a haunted house. Seriously? OK, well Top Ten Real Estate Deals has lived up to their name and compiled the Top Ten Haunted Houses for sale. Though many houses on this list aren't necessarily haunted, their history certainly provides the opportunity. Take a look (All photos and information courtesy of Top Ten Real Estate Deals).
To see additional photos of each house, scroll through the slideshow above.
Mobile Users: view the slideshow and article here.
10.) The Silence of the Lambs House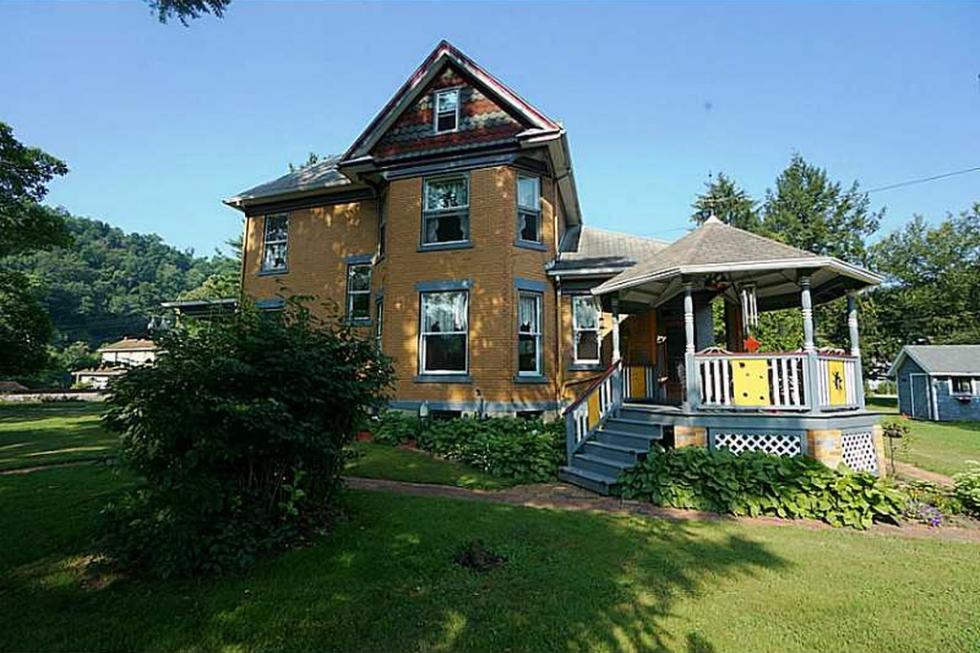 "It puts the lotion on its skin or else it gets the hose again." The 1910 Princess Anne construction is situated on over 1.5 acres and offers a spacious 2,400 square feet of living space.  Beautiful craftsmanship throughout the home, an in-ground pool and a vintage caboose used as a pool house are just a few of the happy reasons why the home is worth the $300,000 asking price.  A price that has certainly been cut to the bone.
The house is close to Pittsburgh. No word on if the pit in the basement is gone. It probably is. Probably. 
9.) The Arizona Boulder Creatures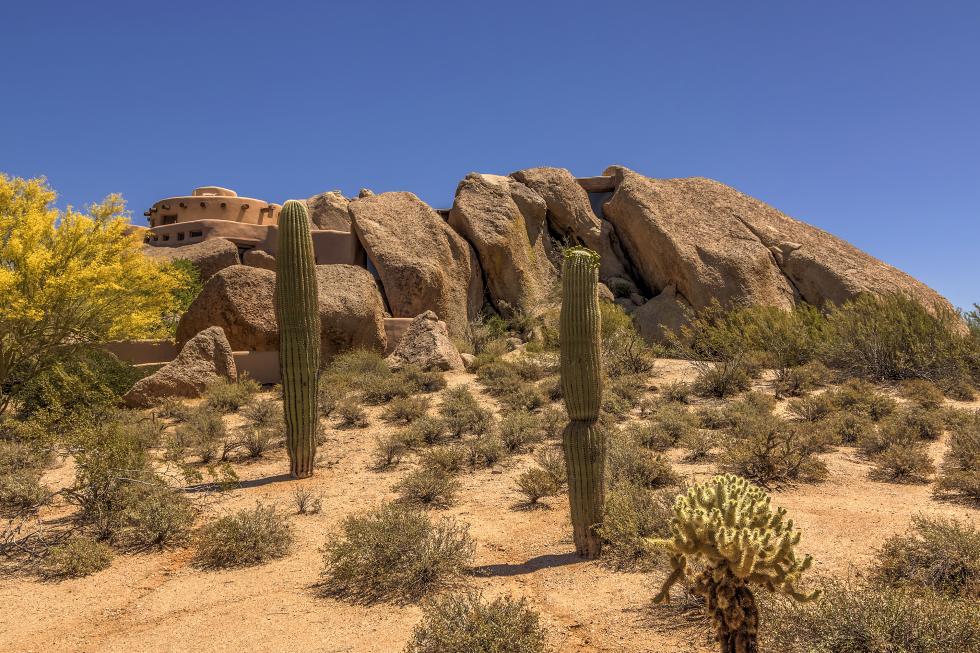 Some couple from Washington decided to respond to an ad in the 1970's that said "Does anyone want to buy my pile of rocks?" They of course said yes and decided to build a home inside the boulders. It was then that they realized they weren't the first people to live inside the rocks. Pottery shards and rock carvings they discovered were dated back as far as one thousand years. Then they found something even more astonishing - a Stonehenge-type phenomenon that occurs on both the spring and fall equinoxes. A six-inch wide beam of light that starts in the glass between two boulders and slowly works its way across the floor and up the wall to a 36" spiral petroglyph. When the sun hit its mark, the stone projections light up like diamonds. Not sure that means it's haunted, but it sits next to a golf course and is valued at more than $4 million. 
8.) The Dakota Building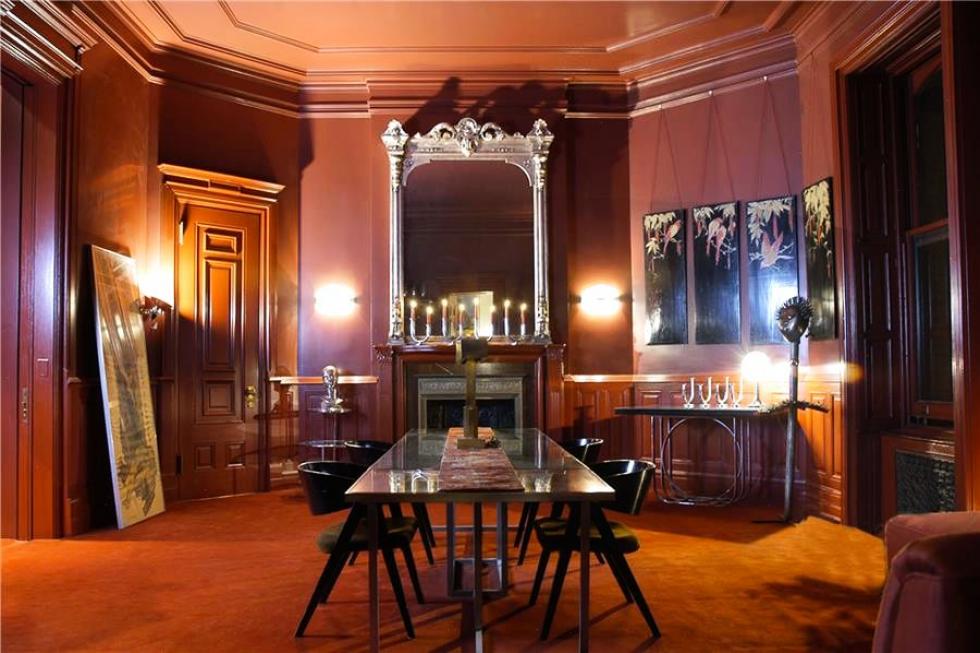 John Lennon moved into The Dakota in 1973 and lived there until he was murdered outside the building's 72nd Street entry in 1980 by a deranged fan. The building's exterior was filmed as the home of Mia Farrow's devil-mama character in Rosemary's Baby.  Some people say it is the scariest  building in New York City with a long history of ghosts and hauntings. But it is not cheap. $14.5 million. And Yoko Ono still lives in the buildings, so... there's that. 
7.) Neverland Ranch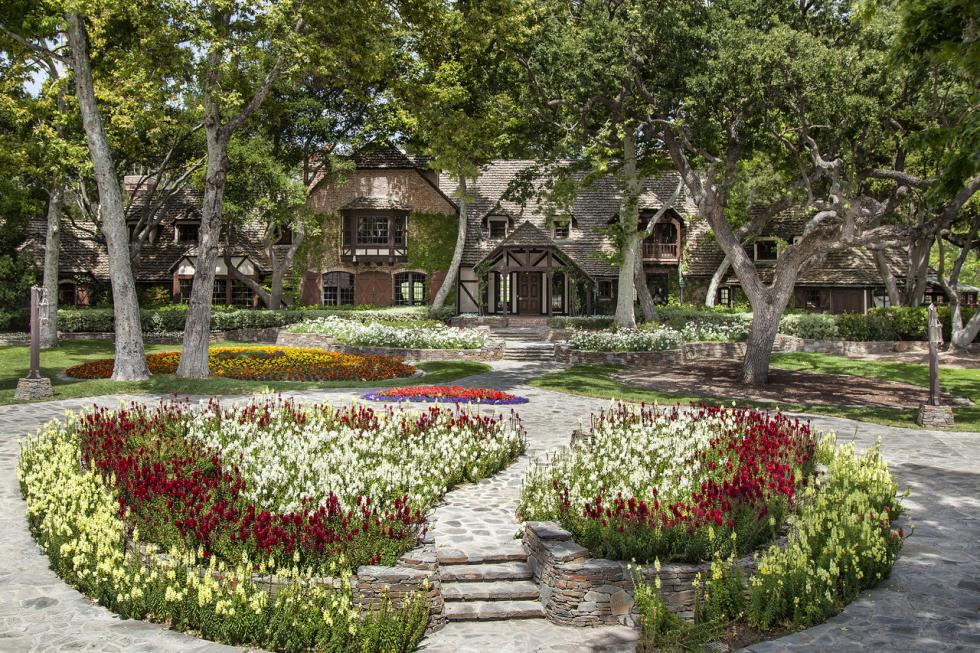 Michael Jackson moved out in 2005, four years before his death, and the Ferris wheel is gone, and it's now called Sycamore Valley Ranch. The centerpiece of the estate, the 12,000-square-foot main house, is situated on nearly 2,700 acres of land. It can be yours for only $100 million!
6.) The Scarface House
Despite the movie taking place in Miami, this home is actually in Florida (something about the Miami tourist board being scared of a bad image of Miami being projected). Montecito estate, used as Tony Montano's lavish killing mansion in the film Scarface, is for sale at $35 million. It should be all cleaned up. 
5.) The Sowden House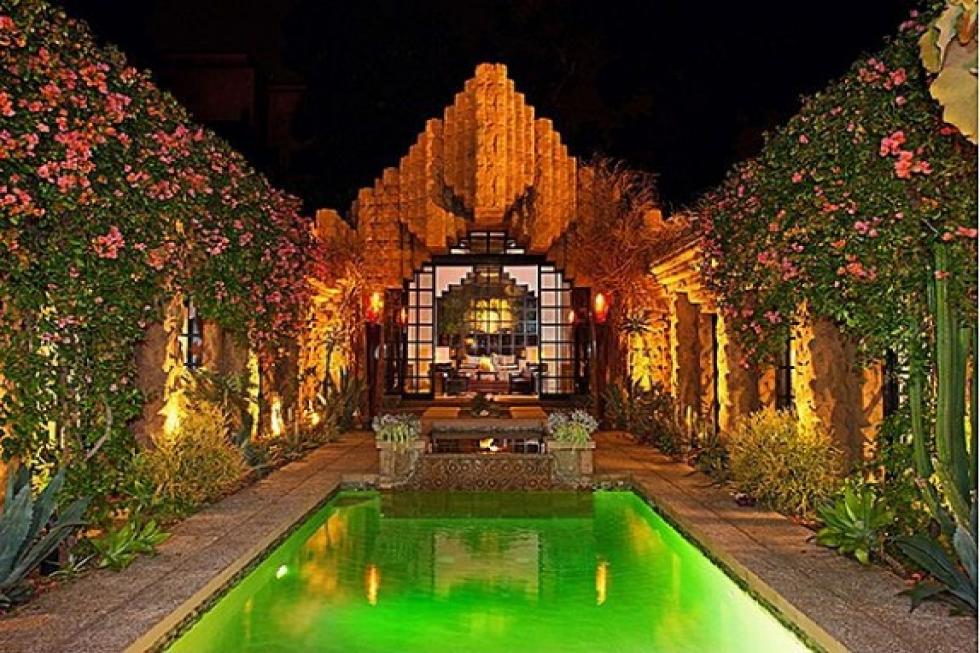 Stories swirl around this home like moths around a flame (a flame from a fire that you could be relaxing by on the patio) about the previous owner, Los Angeles Doctor George Hodel, and his involvement in the Black Dahlia Murder in 1947.  Many people, including his son, believe that Hodel was behind the brutal killing, mutilation and dismemberment of Elizabeth Short.  Elizabeth was sliced in half by someone with the skilled hands of a surgeon and then the blood was drained from her body. It can be yours for nearly $5 million. 
4.) New York's Most Fashionable House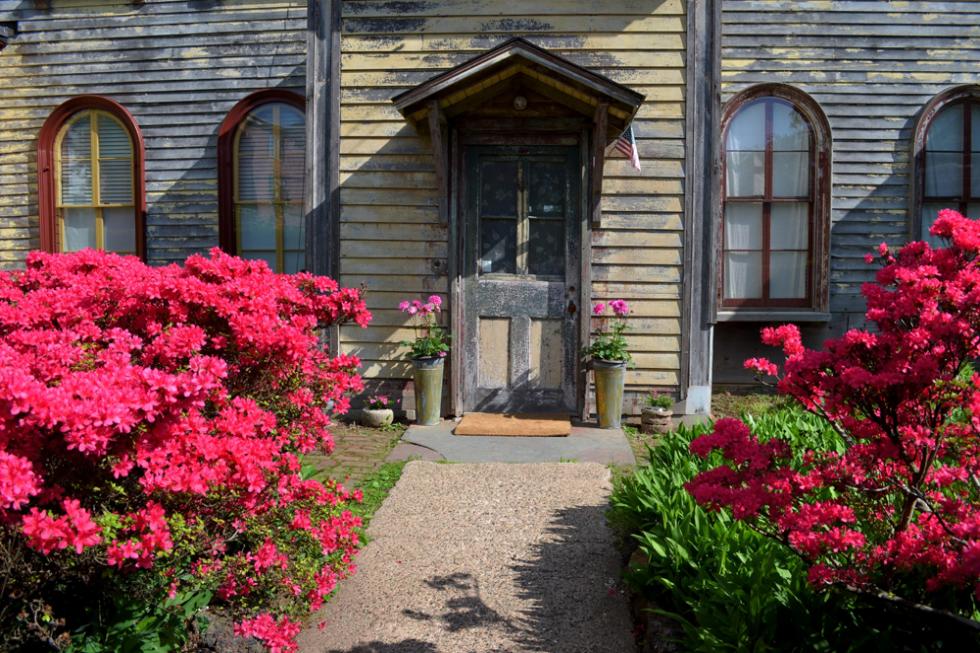 This house isn't necessarily haunted, but it's nearly 160 years old and was converted in the 1990's to be used a place to shoot spooky looking photos for magazines like Elle, Vogue and Fossil. If you want a haunted-looking house without any of the haunt, this can be yours for $2.31 million. 
3.) Colorado Ghost Town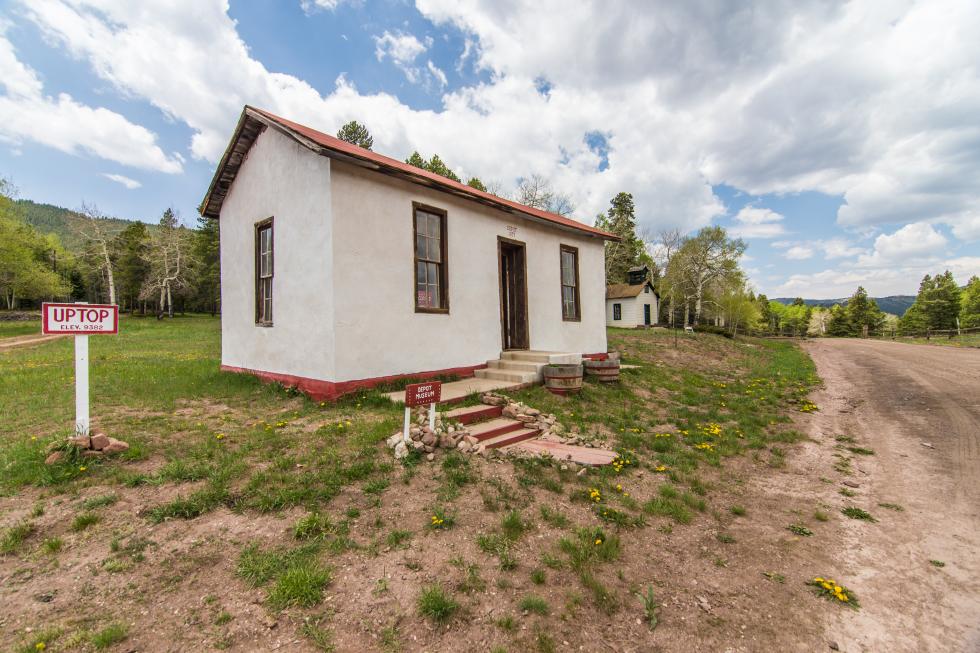 Forget owning a haunted house, how about an entire town. A very small town, but still a town. Uptop, Colorado was established in the 1870s as a railroad town, then a coal town, but by the 1990s, everyone was gone. The Lathrop Gang, two green-horn sisters from Boston, bought the town in 2001 and began to renovate the deteriorating buildings.  The sisters brought the 42-acre town back to life restoring a train depot, dance hall, saloon, chapel, meeting hall and large log cabin.A frightening good deal, the town is now free of ghosts and cowboy outlaws and on the National Historic Register for sale at $1 million.
2.) The JP Morgan Great Camp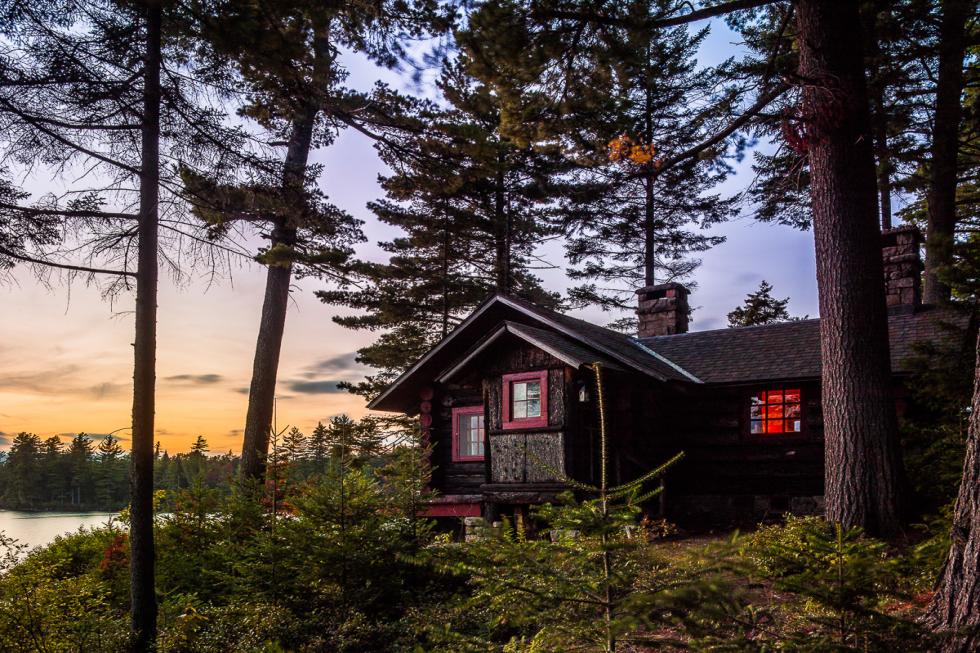 If you have a bank loan, you might know the name JP Morgan. He created General Electric and U.S. Steel. He was also considered a financial genius and had a ton of money. This was where he lived. While no one has claims to have seen JP Morgan's ghost, there are several disturbing incidents surrounding the family. Morgan's former Long Island mansion is said to be haunted by his daughter who is sometimes seen walking the corridors in a long black dress. The late comedian Joan Rivers claimed that her New York home was haunted by Morgan's niece who would visit her every night at 3 a.m. It is located in upstate New York and is perfect if you're looking for film another installment of Friday the 13th. The asking price is #2.95 million. 
1.) Jeffrey Dahmer's Boyhood Home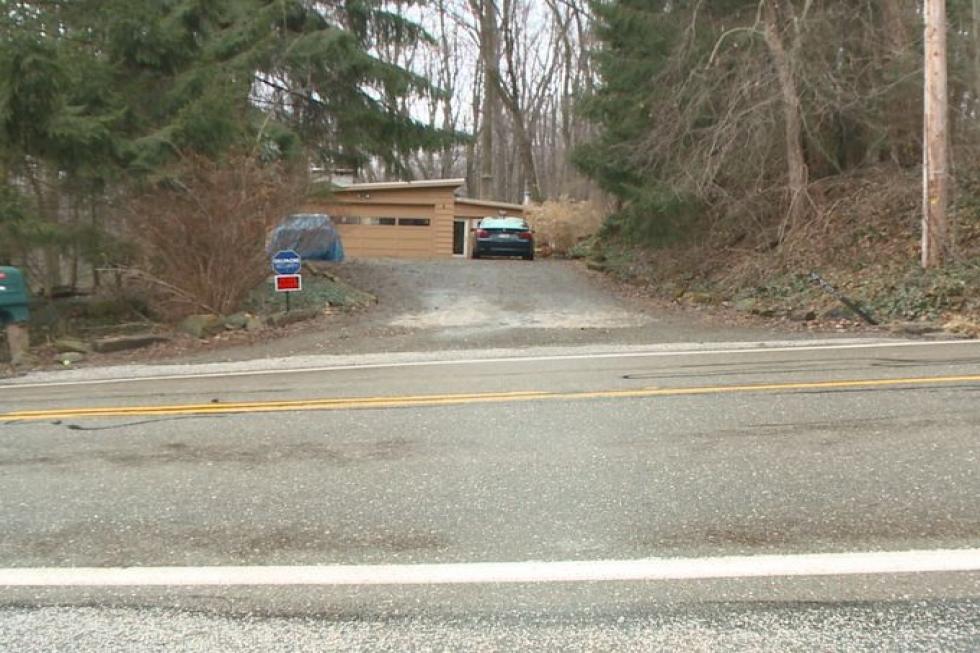 Dahmer's childhood home has been on and off the market for years. It is where he killed and dismembered his first victim. There has been interest in the home including PETA that wanted to turn the home into a vegan restaurant (because God knows the stigma surrounding the place wouldn't allow you to have a steak house) but they were turned down due to zoning restrictions. The most recent asking price was $295,000.