Update: 10:49
-Kevin Kim reports seeing militia members patrolling streets of Spokane. They told him they are protecting stores from looters 
-KHQ crews witnessed someone break a window. They have also seen and heard tear gas and firecrackers set off in the streets
Update: 10:27pm 
-Governor Inslee has ordered the statewide activation of the National Guard. 
-Mayor Woodward says 150 National Guard members will be in Spokane by Monday afternoon. 
-Sheriff Ozzie Knezovich says the violence "Was not caused by our African-American community." 
-STA Bus routes have been canceled until 6:30am Monday morning
-Riverpark Square says Nike store was looted, but security was able to keep most looters away
-Video shows protesters attacking Wells Fargo 
Update 8:49pm 
Spokane Mayor Nadine Woodward has enacted a curfew now until 5 a.m. Monday. The order applies to Division to Maple & Fifth to Boone.
Sheriff Ozzie Knezovich has also requested the National Guard for assist with controlling protests in downtown Spokane.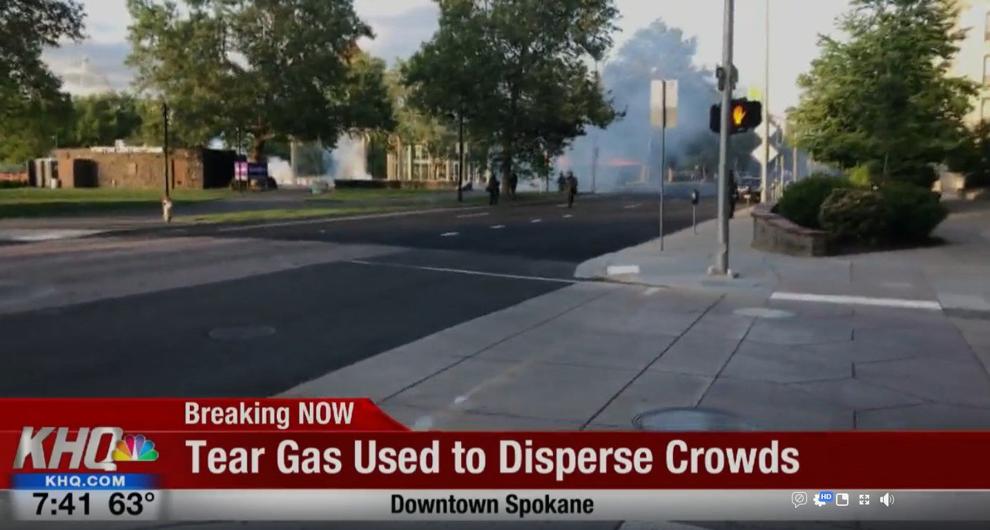 UPDATE 8:16p.m
Noelle Lashley reports that more people are gathering near Spokane City Hall. Protesters are standing and yelling at police. Officers fired canisters of tear gas. 
UPDATE 7:45p.m. - Police launched several rounds of tear gas into crowds gathering around Riverfront park, according to KHQ Local News Reporter Kevin Kim. KHQ producers also confirmed with Spokane police that they used rubber bullets in some instances.
---
What started Sunday afternoon with mostly peaceful protests in Riverfront Park in downtown Spokane began to turn violent during the early evening hours.
According to KHQ reporters and photographers covering the protests in the downtown area around River Park Square, a group of protesters started threatening action on the Nike storefront. Other protesters tried to stop the action on the store. Police arrived a short time later and warned the group to they were gathering illegally. At some time, offers launched tear gas into the crowd, causing the protesters to disperse.
The tear gas proved effective, but also affected a KHQ videographer who was broadcasting the protests live on Facebook.
The protests on Sunday turned about an hour after Spokane mayor Nadine Woodward praised the city. She said Spokane was setting an example to other cities in the area – showing how to protest peacefully.
Protests began around 2 p.m. at the park near the iconic red wagon. People were mostly respectful to the police standing by to make sure nothing got out of control. The crowds eventually made their way to Public Safety building. Even then, the protests remained calm.