OLYMPIA, Wash. - Following a House investigation that found evidence of domestic terrorism, Spokane Valley Rep. Matt Shea's desk was moved to the back of the House chamber to start the new legislative session.
On Friday, he was front-and-center at a gun-rights rally outside the Washington State Capitol Building in Olympia.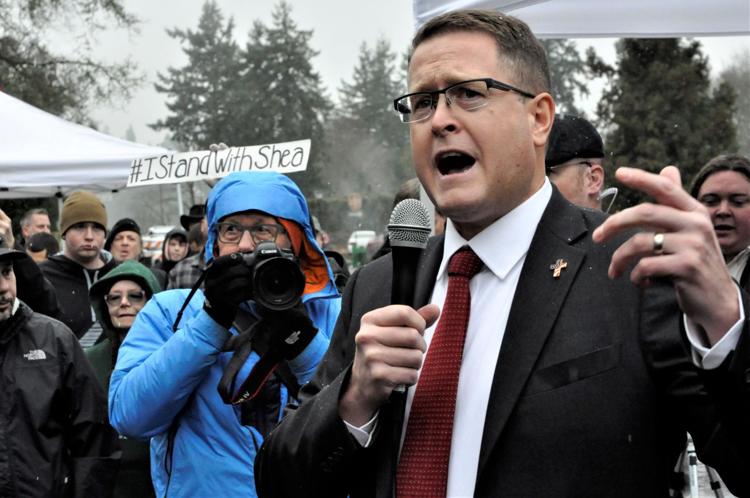 "People had signs that said 'We Stand With Matt Shea' or 'I Stand With Matt Shea.' Because he's a known supporter of second-amendment rights, they (protesters) were very supportive of him," Jim Camden, a political reporter for the Spokesman-Review, said.
While the rally centered around guns-rights, Shea also reportedly touched on the investigation surrounding him, criticizing a lack of focus on America's "real enemies."
"The real enemies of this country aren't being investigated, the real enemies of this country aren't being looked into, the real enemies of this country aren't being reported on by the media" Shea said, according to a Seattle Times reporter.
"(Matt Shea) was basically greeted like a rockstar, which is in contrast to the last month or so - he's been removed from the House Republican caucus," he noted.
About 400 people participated in a rally outside the steps of the state Capitol building, according to Camden. The rally included speeches from legislators, including Shea, and support from armed protesters displaying "semi-automatic, military-style rifles."
"Join us at the Capital (Capitol) legislative steps continuing to defend your 2nd Amendment Rights. It's TIME to fight back!" the event's description states.
One of the focuses by protesters was to speak out against a slate of bills proposed by Attorney General Bob Ferguson and a group of Democratic legislators, along with pending bills that would ban sales of high-capacity magazines and semi-automatic rifles, and also tighten rules for selling ammunition.
Ferguson called for the state to ban the sale of magazines holding more than 10 rounds, and to ban the sale of semi-automatic rifles that were restricted in 2018 through Initiative 1639, which requires more extensive background checks and a gun-buyer to be at least 21-years-old.
The rally also included a confrontation by a man who approached Shea, but was stopped by members of Shea's security. The man repeatedly asked Shea "if he was going to resign," according to the Northwest News Network.