SPOKANE, Wash.- "Seek Then Speak" is a free app that helps survivors of sexual violence take the first steps towards recovering from trauma.
When a user opens the app, they are given information on what sexual violence is, local resources for help and legal options. 
In Spokane, the app partners with Lutheran Community Service Northwest and Spokane Police to provide help for survivors and those in the community just looking to be informed.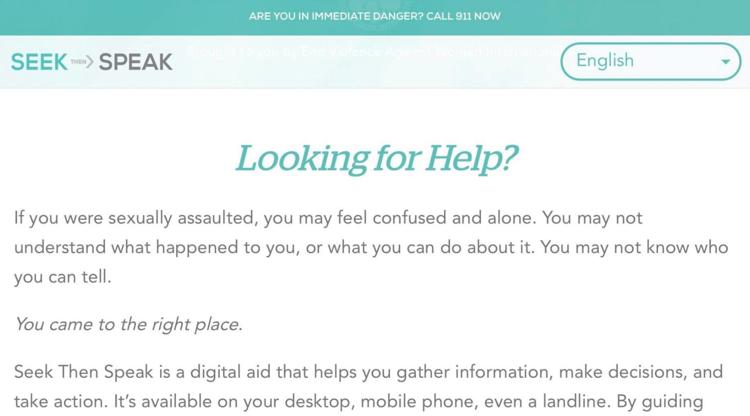 Lutheran Community Services Northwest Director Erin Williams explains that the app takes away unrest of having to look for help.
"The app is designed to help people to sort through, 'how do I begin,' 'who are even all the people I can talk to about this?'" Williams said.
"Seek Then Speak" defines all the options for a person, and lets them choose what they would like to do and when, while remaining anonymous. 
"Having to physically pick up a phone, or walk your self down to the emergency room is a huge commitment," Williams said. "The app is a huge step in between that. It allows us to have choices. It allows us to think about things before moving forward."
"Seek Then Speak" also connects users to Luther Community Services Northwest's 24-hour crisis hotline. Through the app, users can call or text the hotline at (509) 624-7273.
The app is built to be inclusive for all people, regardless of gender, age, or their situation, to get help. 
"The app creates a lot more choice, and a lot more opportunity to regain power, to feel empowered, to explore, to educate yourself, to do it in your time and your way, and that is really special," Williams said.
Williams said the app is for more then just survivors of sexual violence. It's also meant for people just seeking for information, or wanting to be informed if they, or someone they know is sexually assaulted.
"We want people to download it now," Williams said. "Already have it in case they or someone they know needs it."
"Seek Then Speak" is available for download in the App Store or Google Play Store. 
Those looking for more information can also look online at www.seekthenspeak.org.