SPOKANE, Wash. - It was a reunion three years in the making. 
On Friday, Feb. 14, Spokane airman Ryland Brown waited anxiously with squeaky toys in hand to be reunited with his dog, Wrangler. 
Brown had left Wrangler with a friend in San Antonio about three years ago, before he left for basic military training. But that friend said Wrangler eventually became too much to handle and ended up giving him away. 
Fast forward to January of this year, when the Houston SPCA rescued nearly 200 animals from a property that was, "among the top five worst cases of living conditions they have ever seen."
One of the dogs they rescued from a wire crate in the home's backyard happened to be micro-chipped.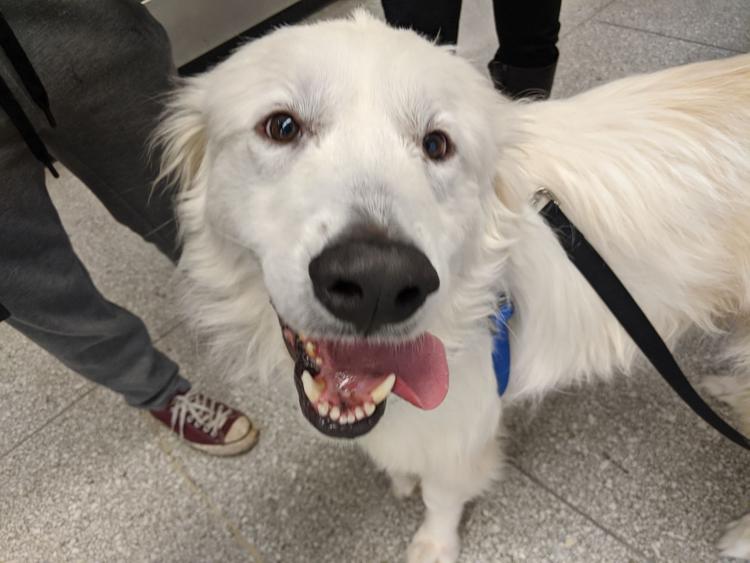 It was Wrangler. 
The Houston SPCA found Wrangler was micro-chipped and registered to Brown and from there, the journey to reunite them began. 
The Houston SPCA and United Airlines teamed up to get Wrangler from the George Bush Intercontinental Airport. By the afternoon, Brown, his wife and a crowd of misty-eyed onlookers witnessed Wrangler's triumphant return.
Wrangler was a bit bigger than Brown remembered, but he could still see the puppy he knew.
"He is still very much the Wrangler I had," Brown said.
When asked what they'd be doing first, Brown said he was looking forward to treating Wrangler to a spa day, where he can be groomed.