SPOKANE, Wash - A Spokane lawyer has filed suit in Seattle against Amazon Web Services for removing the social media site Parler.
David Groesbeck's 48 page complaint alleges that Amazon wrongly suspended the social media platform and must reinstate it.
Groesbeck's complaint, filed on January 11th, reads in part, "When Twitter announced two evenings ago that it was permanently banning President Trump from its platform, conservative users began to flee Twitter en masse for Parler. The exodus was so large that the next day, yesterday, Parler became the number one free app downloaded from Apple's App Store. Yet last evening, AWS (Amazon Web Services) announced that it would suspend Parler's account... and it stated the reason for suspension was that AWS was not confident that Parler could properly police its platform regarding content that encourages or incites violence against others. However, Friday night one of the top trending tweets on Twitter was "Hang Mike Pence." But AWS has no plans nor has it made any threats to suspend Twitter's account."
#Hang Mike Pence was trending on Twitter shortly after he certified the Electoral College results in favor of Joe Biden, instead of sending them back to the states for further examination.
The suspension of Parler has led to a large migration of conservatives voice to other sites like the Gab, TheDonald.win and MeWe. According to NBC, some extremists are now using channels on the encrypted communication app Telegram to call for violence against government officials on Jan. 20
Among those with a MeWe accounts is former Spokane Valley representative Matt Shea. In a recent post called Pence "VP Judas." He posted a meme defining the word "Pence'd" as having "faith in someone who blindsides you and lets you down. When someone reveals their true colors and betrays you in a time of need. When a coward doesn't uphold the truth. Example: Judas 'Pence'd' Christ , to the Jewish authorities in return for thirty pieces of silver. See also: back-stabber, traitor, Benedict Arnold."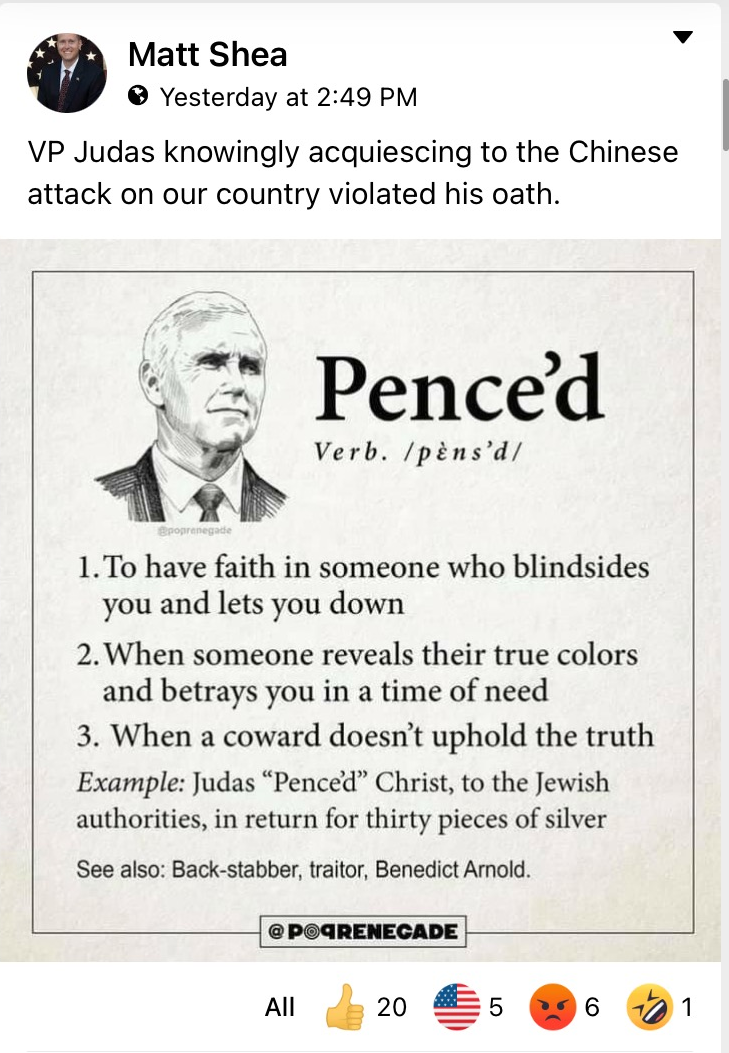 Shea has used Parler in the past, often mirroring what he was posting on Facebook. However, this post does not appear on his other accounts. 
MeWe has gained massive popularity in recent days. In fact, it was number two in the app store behind Paler. It is also hosted by Amazon Web Services. So far, Amazon has not commented on its status. 
Groesbeck's lawsuit seeks a temporary restraining order against Amazon Web Services to prevent it from shutting down Parler's account. It says shutting it down "is the equivalent of pulling the plug on a hospital patient on life support. It will kill Parler's business- at the very time it was set to skyrocket."
KHQ has put in a call and email to Mr. Groesbeck for comment, but have not heard back at the time of this writing. We also reached out to Matt Shea, but haven't heard back from him, despite repeated requests for comment, since 2018.