Update: June 23rd, 7:12pm: 
Spokane Police say they have made an arrest in the string of arsons Monday morning.
36-year-old Stephanie M. Register was booked into jail on one count of 2nd degree arson with more charges pending.
The suspect was picked up at the STA plaza.
Spokane Police say more than 20 properties were burned or damaged in a series of fires at multiple locations, including 10 U-Haul trucks, 5 citizen vehicles, a garage, fencing, and several garbage cans.
Update, June 22, 10:30 am:
SPOKANE, Wash. - The Spokane Police Department is asking for the public's help identifying a person of interest in a series of early morning fires in North Spokane.
Early on Monday, June 22, officers responded to a report of fire and gunshots on East Crown. When they arrived, they found two cars on fire and small explosions coming from the fires, which they believe accounted for the reports of gunfire.
About an hour later, the Spokane Fire Department responded to a second fire in the same neighborhood to the east. Two more cars and a garbage can had been set ablaze, which ignited an unattached garage as well.
A short time later, another fire was extinguished in the area of the Northtown Mall. A fence and dumpster had been set on fire at a small business along with property at a bank just north of the mall. 
Early video evidence was collected and showed a woman who is a person of interest regarding the fires, removing an article of clothing as she moved through the mall parking lot. 
Within an hour of the original incidents, numerous U-Haul trucks were also set on fire near Division and Magnesium. 
At least one other call came in on Monday morning reporting damage at a North Spokane home that may also be related. 
Police note that the investigation is just beginning and information is still preliminary. They are asking for the public's help identifying the person of interest pictured below and any new information related to arson or malicious mischief, specifically the use of a black marker to deface property, at businesses or homes along the North Division corridor between Sunday and Monday.
Anyone with information is asked to call Crime Check at (509)456-2233.
Update, June 22, 9:30 am:
SPOKANE, Wash. - The Spokane Fire Department has released more details following a string of car fires in North Spokane.
According to the Fire Department, crews responded to five separate reports of fire between 2:30 a.m. and 7:00 a.m. on Monday, June 22. 
The first was reported at 2:30 a.m. near Division and Crown where two vehicles were on fire. The second incident was reported at 3:34 a.m. and was near the 200 block of Crown where another two vehicles and a shed were on fire. At 3:38 a.m., one vehicle was extinguished by security at NorthTown Mall. At 3:40 a.m., police and firefighters found a small fire a the Bank of America at Division and Wellesley and at the Body by Diju on Division.
There were no injuries reported to citizens, police officers or firefighters during these incidents. 
A total of six vehicles, one shed and two structures were involved. 
The Fire Department is calling the nature of these fires incendiary and they remain under investigation. 
Update, June 22, 7:30 am:
SPOKANE, Wash. - Spokane Police are searching for an arsonist after several cars were burned in North Spokane. 
The incidents appeared to happen around 3:00 a.m. on Monday, June 22. One victim even captured a suspect on surveillance footage using a piece of cardboard to light her car on fire.
Police say they do have a suspect but have not yet released an official description. 
Previous Coverage:
SPOKANE, Wash. - Spokane fire crews started off their Monday morning responding to a series of car fires.
At least seven vehicles just north of Northtown Mall were left smoldering as the sun began to rise on June 22. 
A witness reported seeing the flames between 2:30 a.m. and 3:00 a.m. before finding a neighbor's truck and his own truck on fire. He also reportedly found cans of WD-40 at the scene.
About a block away, two more burnt cars were also found. The owner of one of those cars also captured the incident on surveillance camera. Footage reportedly showed a woman lighting a cardboard box on fire before placing it on top of one of the cars.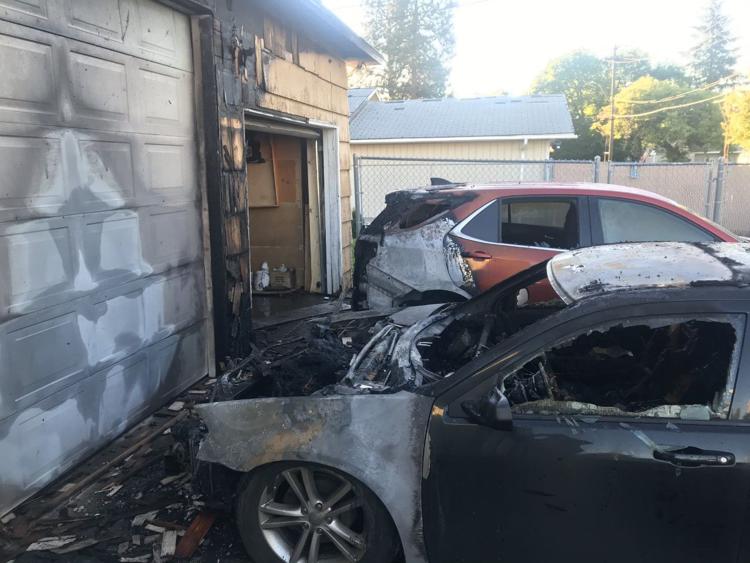 Also nearby, several U-Haul trucks also caught on fire Monday morning. Thankfully, no injuries have been reported in conjunction with these incidents.