SPOKANE VALLEY, Wash. - A bold thief targeted a Spokane Valley family who have already been through so much. The victim's say the crook took the one Christmas decoration that meant the most.
"It's like they come in and take stuff right next to the security cameras," victim Debbie Anderson said. "You've got to be kidding me. People are so bold."
The theft was caught on camera. The thief can be seen helping himself to the family's precious Christmas decorations. They hadn't even been up 12 hours.
"We didn't get Christmas last year, this was going to be a special one," Debbie said.
That's because Debbie's six-year-old grandson Kolton was in the hospital fighting for his life after a devastating cancer diagnosis.
"He battled it for over a year and half," she said.
But the vicious disease was no match for Kolton. He recently got to ring the bell, cancer free at last. His trusted buddy Olaf from Frozen helped him get through the darkest days.
"I watched frozen so many times with him in the hospital," Debbie said.
That's why when it came time to decorate for this very special holiday, an outdoor Olaf was a must.
"(Kolton) was like, 'papa when are putting Olaf up? When?' It's like why? You could have stolen the other stuff," she said.
But the man their security cameras caught stealing, honed in on Olaf. He stole a few other items, but nothing held sentimental value like Olaf.
"I hope you feel good, I hope it feels good to enjoy another person's holiday," Debbie said. "Kolton doesn't know. I'm just going to tell him the Grinch stole Christmas. What can you say? I can't find another Olaf."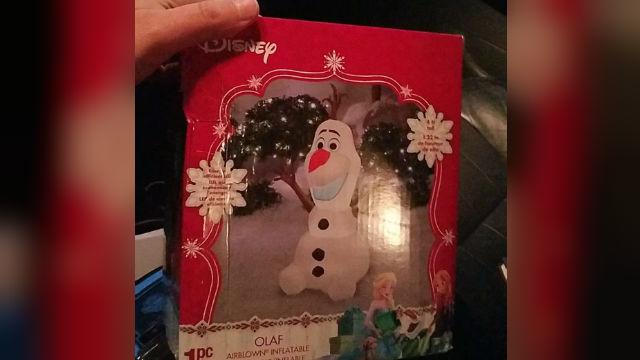 But apparently, our wonderful viewers can. One man, who asked to remain anonymous contacted 'Help Me Hayley' after seeing the story on social media. He found a new Olaf for the family and dropped it off at KHQ Friday evening.
The family says they are so grateful for our communities kindness. The only thing they want now is for the crook to be caught before he does this to another family. If you have any information on this theft, please call crime check.