Update: July 5: Officials say the Swanson Mill Fire has been 50 percent contained as of Friday morning.
Crews also said the fire's footprint was accurately measured, putting the official size at 281 acres.
"The hard work and dedication of the members of the local fire districts is particularly noteworthy and greatly appreciated," an Incident Manager said in a release.  "There remains much to be done to button up this incident and bring it to acceptable turn-back standards."
Friday, fire crews will continue to strengthen containment around the fire and structures, using construction of waterbars, cross gridding and cold trailing.
Crews are hoping to fully contain the fire Saturday.
Update: July 4, 10:37 a.m.
DNR crews say they worked overnight to contain the Swanson Mill fire near Oroville and have estimated the size around 350 acres.
Thursday, crews are continue to work on establishing containment around the fire and structures, using hand crews and wildland fire engines. DNR is reporting the fire as 100 percent lined, but 0 percent contained.
A total of 74 personnel are on scene, hoping to reach full containment this weekend.
#WaWILDFIRE UPDATE: #SwansonMillFire near #Oroville is approximately 300 acres. Crews worked overnight to contain -- remaining resources on the ground are now mopping up.

— Washington State DNR Wildfire (@waDNR_fire) July 4, 2019
UPDATE July 3, 2019 at 5:53:
Okanogan County Emergency Management says Washington DNR has been able to knock down the Swanson Mill Fire burning between Tonasket and Oroville in Okanogan County.
The fire is still active, according to Okanogan County Emergency Management. Crews will remain on scene to monitor the area.
No word on the final estimated acreage, but at last checks the fire had burned 200 acres.
UPDATE JULY 3, 2019:
Okanogan County Emergency Management told KHQ the Swanson Mill Fire was sparked by a tractor. 
They said there is an advisory for residences, but no evacuation at this time. Officers are going door to door ensuring people know about the fire and advisory.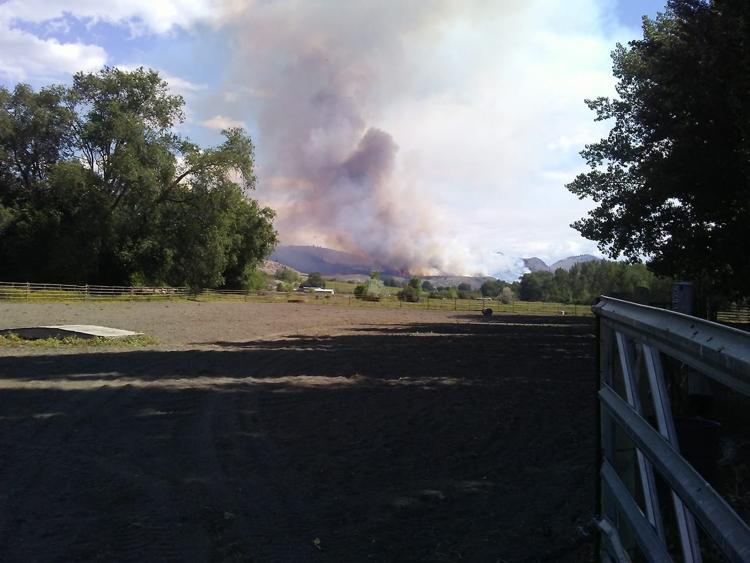 UPDATE JULY 3, 2019:
OROVILLE, WA - The Swanson Mill Fire is burning around 200 acres along O'Neil Road between Tonasket and Oroville, 12 miles south of the Canadian border.
The British Columbia Wildfire Service has been brought in to assist the Washington Department of Natural Resources and Okanogan County, Tonasket and Oroville firefighters in fighting the fire. BCWS has provided two air tankers to attack the fire from the air.
Firefighters are facing snakes and power lines while fighting the fire.
The Frontier Ranch in Oroville is offering pens, arenas and stalls for animals evacuated by the fire.
UPDATE:
Washington Department of Natural is reporting the Swanson Mill Fire has now grown to 200-acres. Air resources are being dispatched to help fight the fire.
PREVIOUS COVERAGE:
The Washington State Department of Natural Resources has dispatched resources to help fight a 20-acre fire burning in Okanogan County, near Oroville.
Crews are calling it the Swanson Mill Fire.
This story is developing and will be updated with the latest information as it becomes available.
BOISE — The Idaho Department of Environmental Quality (DEQ) today announced the award of a $3,286,000 low-interest drinking water construction loan to the city of Athol in Kootenai County
The funding will be used to construct a new water system, which includes demolishing two existing water reservoirs, modifying an elevated water reservoir, constructing a standpipe and water main, and adding transmission line, electrical, pump, and building upgrades.
DEQ is authorized by state law to make loans to assist in the construction of public drinking water systems. Since the annual cost of drinking water service for residential customers exceeds one and one-half percent of the median household income, the Mores Creek Rim Ranches Water District is able to qualify for a disadvantaged loan, which carries very favorable repayment terms.
The loan from DEQ's State Revolving Loan Fund, which is capitalized annually by grants from the US Environmental Protection Agency, carries a simple 1.75% interest rate, is payable over 30 years, and has $700,000 of principal forgiveness. The favorable loan terms represent a $2,012,165 savings to the community when compared to average costs for municipal general obligation debt issuances.