Update: May 5, 6:08 pm:
SPOKANE, Wash. - A teenager killed in a crash that left a car submerged in the Spokane River overnight has been identified by his friends and family. 
According to his friends and family, Charles Mugo was just about two weeks away from his 17th birthday. 
KHQ's Peter Maxwell was told that Mugo was in the backseat of the car when it drove off an embankment and into the river late Monday, May 4.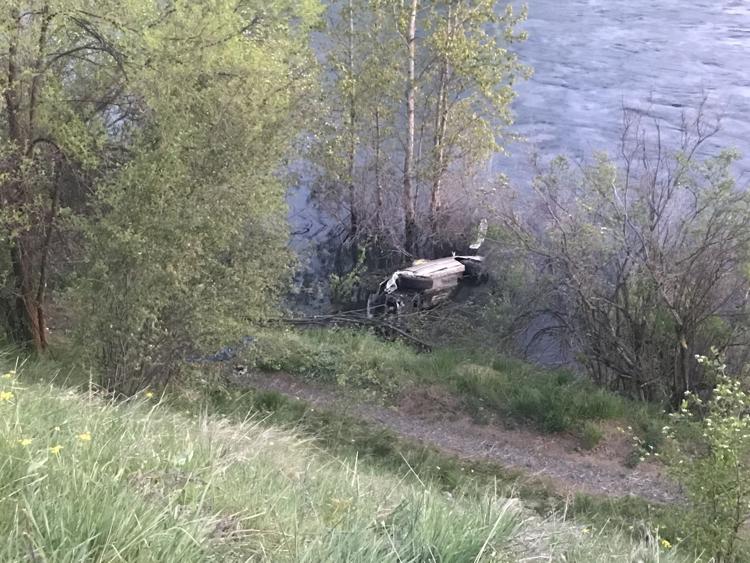 Another teenager who was driving the car was pulled to safety almost immediately but was unconscious and couldn't tell anyone about his friend in the backseat. 
The dive team also said that the water was too dangerous to search until daylight hours. 
Police said the driver was likely speeding and may have been intoxicated. 
Previous Coverage:
Crews have located a man's body Tuesday morning in a car submerged in the Spokane River following a crash late Monday night.
Spokane Police confirmed an occupant was found deceased in the car Tuesday morning.
Police say a combination of swift moving water, the lack of light and the car being unstable all made it impossible to check for a body until the sun came up. 
A tow truck retrieved the car from the river around 9:30 a.m. Tuesday.
The Spokane County Medical Examiner had recently arrived on the scene. The name of the deceased will be released by the medical examiner at a later date when appropriate.
Another teen had been pulled from the car by police with assistance of some bystanders following the crash just after 11 p.m. Monday. He was hospitalized with serious injuries
Previous coverage: 
SPOKANE, Wash. - Spokane Police and fire crews teamed up with some nearby citizens to help pull a teenage man from his car that submerged in the Spokane River after a crash late Monday night.
According to Spokane Police, witnesses observed the car speeding down the street, hit a parked car, and then go over side of an embankment and into the river.  
Upon arrival, there were several civilians working to free an occupant from the car. Three SPD officers entered the river and pulled the teenage man from the submerged vehicle with help from the civilians. Once stabilized, FD crews transported him up the embankment to a waiting ambulance. He is recovering at an area hospital with serious injuries.
Police are investigating what led up to the crash, including how fast the car was traveling and whether drugs or alcohol were involved. Once the investigation is complete, officers will determine what charges to forward to Juvenile Court.
Major Crimes Detectives say the river is moving fast and it's too dark to pull the car out. They are awaiting sunrise to see if anyone else is in the car.
Spokane County Sheriff's Dive Team members and AMR medics also responded to the scene.
This is a developing story and will be updated when more information becomes available.