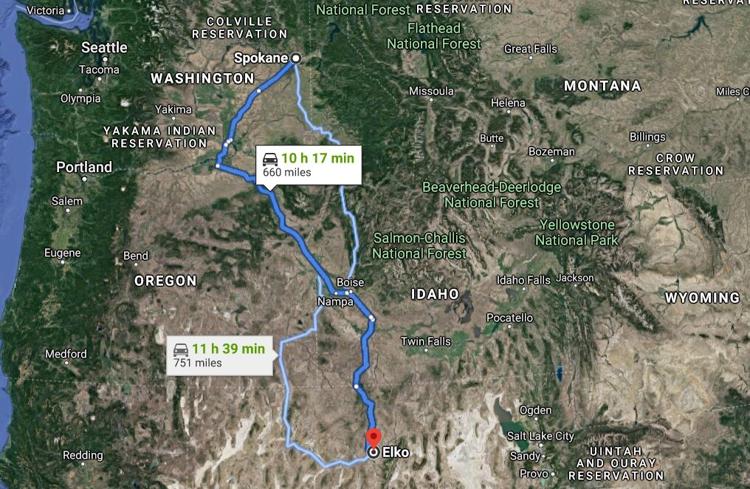 UPDATE Sept. 29, 3:30 PM:
Spokane Police said the teen who went missing from Spokane was found safe in Nevada after she ran away with an 18-year-old man she met online. 
The family releasing a statement: 
"We are grateful beyond measure for the extraordinary work of the Spokane police and FBI. Sophie is safe, but this could have ended badly. For parents and teens, we hope this brings home the very real risk and dangers of modern social media."
UPDATE Sept. 29, 1:09 PM:
ELKO, Nev. - Spokane Police say a 15-year-old girl who was reported missing from Spokane last weekend has been found safe in Nevada. 
Sophia Owens was found near Elko, Nevada, in the company of an 18-year-old man. She is now in protective custody, according to police.
Owens' parents tell KHQ that she ran away with the man, who she'd met online. 
The Spokane Police Department extended its thanks to those involved in the investigation. All the agencies involved will determine what potential criminal charges, if any, may result from the incident.
UPDATE Sept. 28, 4:00 PM:
SPOKANE, Wash. -- We are coming up on 36 hours since a 15-year-old girl vanished in Spokane. Sophia Owens has not been seen since Saturday morning, and her family is now fearing the worst.
"She said she was going to meet her cousin (at Manito Park,)" Sophia's mother said. "I found out, because I can see on her phone (her location,) and I could see she was not where she said she was."
Her mother told KHQ she texted her daughter asking why she was in North Spokane.
"She didn't answer," her mom said. "Then, I sent another one and said please come back. Then I called her."
But the family says Sophie didn't respond. And for more than 24 hours, her phone has been turned off.
"We just want her back," stepfather David Brown said. "There are a ton of people who care about her and just want her back safe."
The family says Spokane Police are searching the teen's computer for clues. They also say they were able to gain access to social media accounts they were previously unaware of.
"We got into her Facebook messages and Instagram account," the family said. "(We found) the hidden one. We got in there and realized what she'd been doing. We don't know where she is, or if someone is hurting her. We feel so powerless because we can't do anything."
Father Rocky Owen says his daughter is young and bright, but also trusting… sometimes too trusting. "It's her best quality," he told KHQ. "But it's also, you know, it's also the one that could get her in trouble."
The family is begging the public to please be on the lookout for Sophia and call in anything suspicious.
"She mostly like met someone she met online," Brown said. "We have no idea who this person is. It could very well be predator. That's what we're afraid of."
If you have any information about where Sophia Owens is, please call Spokane PD immediately.
PREVIOUS COVERAGE Sept. 27: 
The Spokane Police Department is looking for missing 15-year-old Sophia Owens. 
According to SPD, she was last seen at 10:00 a.m. on the 5000 block of South Regal Street on Saturday. 
She was supposed to go to Mantio Park Saturday morning but her phone pinged in Mead on Sunday around 11:00 a.m.
SPD said she is described as a white female about 5ft-6in to 5ft-8in tall and weighs around 100 pounds.
Sophia has blonde hair on top with red on the bottom and blue eyes. She was last seen wearing a maroon/black hooded sweatshirt, unknown type of pants, and black boots.
Anyone with information on her whereabouts is asked to call crime check at 509-456-2233 and reference case 2020-20169961.