In a town of less than 1,000 people, there's no stop lights in Troy, Idaho, but there is a half-court with one basketball hoop.  
This half court was where Wyatt Jager and Lucinda Hites' son, Nicholas, spent their days.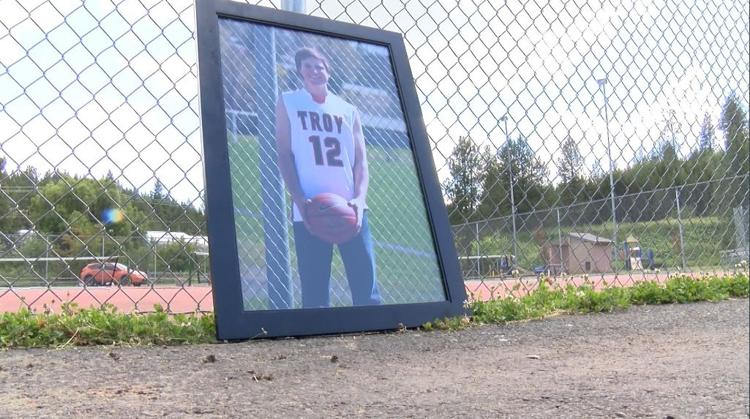 "They started school together in kindergarten and were best friends all through school," Hites said. 
The pair played every sport together, but their bond was built with hoops. 
"Their first Hoopfest that they played together was in 2008 and their team was 'Small Frizes'," Hites said. 
For the kids from Troy, traveling to Spokane to take part in Hoopfest was like playing in the Olympics. 
"I don't think they per say won any games while they were there, but they had a great time," Hites said. 
From there, Wyatt's athletic career bloomed into multi-sport champion. For Wyatt's father, Dennis Jager, it was never easy. 
"She (Lucinda) took care of him during the week while I was out of town working," Jager said. 
Jager would spend his week working long hours, hustle back to Troy and just to make it to Wyatt's games. 
"I'd get home from work, go to a baseball game, we went to a lot of games, a lot of out of town games, a lot of traveling, but it was all worth it," Jager said. 
"You just never expect to lose your kid before you, I never expected that at all." 
On June 17th, 2018, Wyatt lost control and was thrown from his car on a rural stretch of Highway 8 near Deary, Idaho. 
He was taken to Gritman Medical Center in Moscow and then flown to Sacred Heart. 
"When we were up at the hospital," Hites said, "that's when the memory came up on my Facebook." 
Last year, Wyatt was preparing for Hoopfest. Five days later, Wyatt passed away. 
"It was really bad, I'm still having a hard time," Jager said, "especially when I'm driving to work or something, I think of the accident." 
A devastating blow to a tight-knit community, but Wyatt's family was determined to make sure his smile and his life would carry on. 
"It'd probably mean a lot to him because he loved that sport," Jager said. 
Once a small fry, Wyatt's initials will be forever memorialized on a backboard at Hoopfest. 
"We just don't want anybody to ever forget him," Hites said. 
Wyatt's family will put on another 3-on-3 tournament, this time in Troy for the "Troy Days" celebration on July 13th, 2019. 
Wyatt's family said the money raised from the tournament will go towards helping families with the costs of extracurricular activities.