UPDATE: MAY 3 AT 6:05 P.M.
Washington State Patrol has released the details of the crash that caused the backup.
WSP says that two vehicles were involved. The first vehicle was a Mercedes van and its only passenger was the 28-year-old woman who was driving. The second was a Chevy Suburban carrying three passengers in total, a man and woman both in their seventies and another man in his thirties. 
The early investigation shows that the woman driving the van had slowed down due to traffic in front of her on I-90 at the Division Street exit, and the Suburban ran into the back of the van. Both vehicles were traveling east on I-90. 
All four people involved in the wreck were taken to the hospital with injuries.  WSP says right now, charges against the driver of the Mercedes van are being investigated. No alcohol or drugs are believed to be involved in this crash. 
UPDATE: MAY 3 AT 4:48 P.M. 
WSDOT crews have cleared the crash. They are still working to reopen the Monroe and Walnut Street on-ramps.
Expect some delays as I-90 gets back up to speed.
UPDATE: MAY 3 AT 4:15 P.M. 
Traffic crews have been able to open a second lane to traffic on I-90 near the Division Street off-ramp.
Traffic is currently backed up past Spokane International Airport.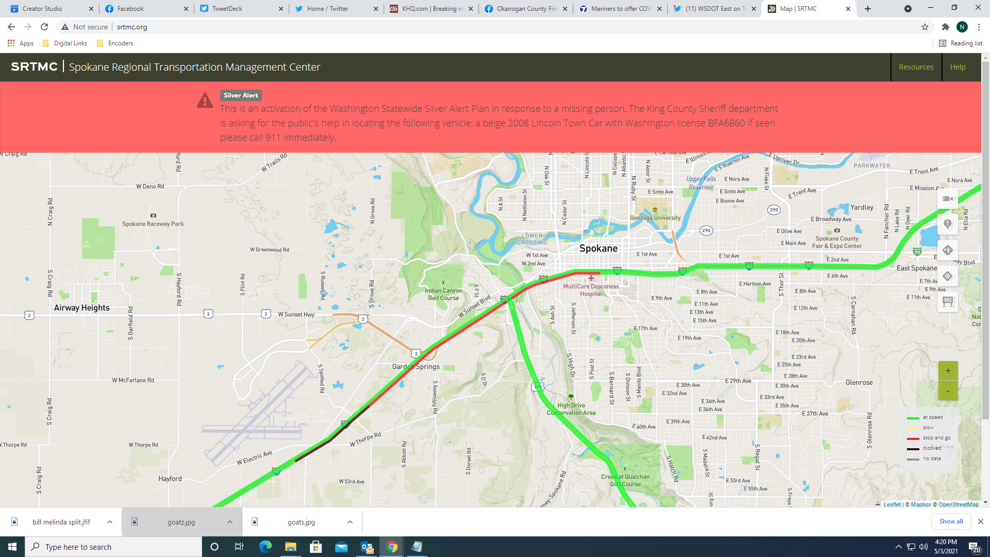 PREVIOUS COVERAGE:
Right now an accident on Eastbound I-90 is causing delays for drivers. 
We haven't heard any details on the crash, but traffic cameras show all but one lane are occupied by emergency vehicles.
We will continue to update this story with information as it comes through.