There's no shortage of problem hills for drivers in and around Spokane during a snow storm. 
Freya's frustrating. 
5 Mile is the northside's nemesis. 
Hatch Hill can be an unmatched thrill. I have no idea why I felt the need to make a rhyme out of that. But I did. Apologies. 
Carnahan Hill, however, is surprisingly - most times - not too shabby. 
"They're (City of Spokane Valley) really right on the ball with plowing," Jameson Blue said Thursday morning standing next to the busy road. "The minute the snow hits, they're here plowing away or throwing deicer on the road because it's a pretty steep hill right here so you have to."
However, sitting at the bottom of such a busy, steep hill, Jameson found out Monday morning that under the right conditions Carnahan can be a bit chancy. 
Jameson slept through a semi-truck uncontrollably barreling into his front yard Monday morning. He did, however, wake up a short time later to an officer knocking on his door. 
"I see him (the officer) first and the next thing I know I see a semi-truck that got turned around," Jameson said. 
"A semi-truck turned around" is putting it mildly. 
With the snow falling on Monday, the reason the semi-truck ended up in Jameson's front yard was pretty clear. Exactly how fortunate he and many other people were wasn't as evident until Jameson looked at video from his doorbell camera. 
"It's amazing he didn't flip," Jameson said recalling the video. 
The truck jackknifed, slid down the hill sideways, crashed through a fence and missed a fire hydrant by inches before coming to rest just feet away from Jameson's front door. 
"Definitely a good way to start my morning before work," Jameson sarcastically quipped. 
There's likely some yard damage under the snow and - unfortunately - a broken sprinkler, but watching the video back that morning, Jameson's thoughts turned to others. 
"Good thing there weren't any cars coming up the hill because as fast as he was coming down, if there had been any cars coming up, they would've been done for," Jameson said. 
John Basford, who also lives in the area, knows what a busy street Carnahan can be and agrees with Jameson. 
"There's always a car sitting here waiting to pull out (onto Carnahan) here," Basford said. 
John himself was waiting to pull out onto Carnahan Monday morning when he snapped a photo of the semi-truck sitting in Jameson's front yard, knowing how bad the situation could have, or in his words "should have" been.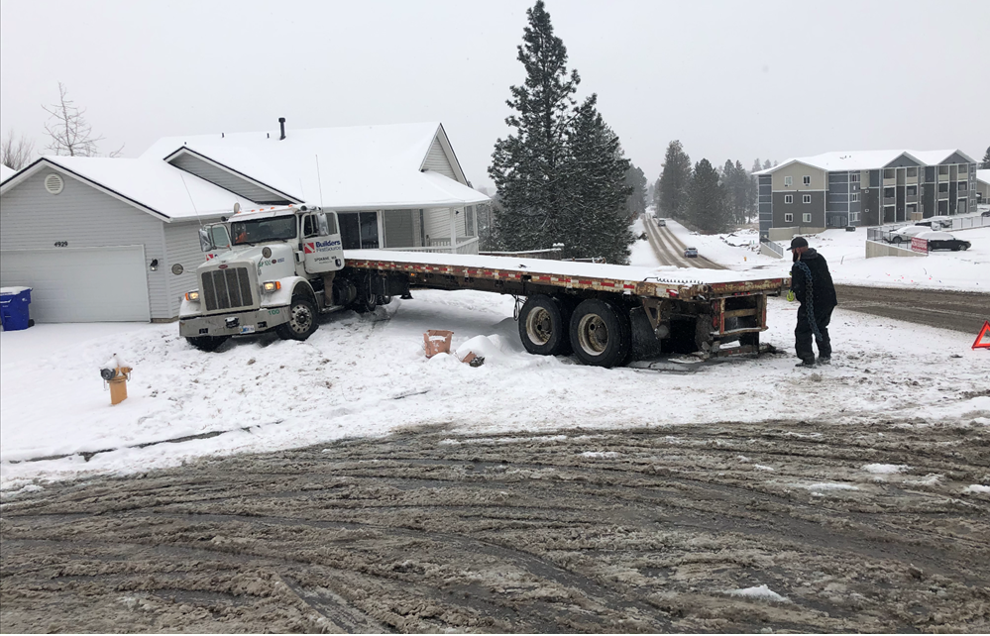 "He (the driver) came down the hill and came through an intersection, across a lane of traffic and into this guy's yard and didn't hit any other cars," John said in amazement. "Had he not jackknifed, it looked like he would've had plenty of room for the cab to be in the guy's house." 
For something that went so wrong for the truck driver Monday morning, so many more things, thankfully, went right to avoid something far more serious. 
Jameson's advice as we all navigate the roads these last few weeks of winter, especially on Spokane's notorious hills? 
"February always has that last minute surprise as far as snowfall," Jameson said. "If you're coming down Carnahan, take it slow or avoid it at all costs."
The Spokane County Sheriff's Office says the driver of the truck isn't facing any charges.