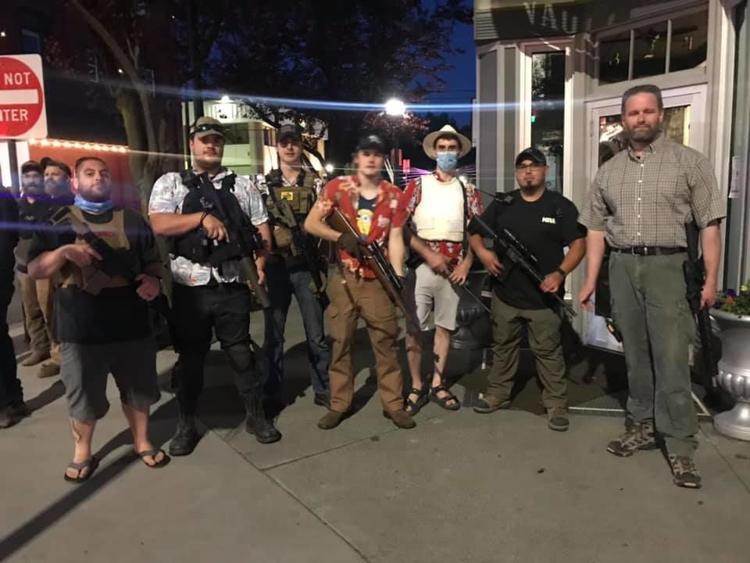 COEUR d'ALENE, Idaho - Protests throughout the week have been peaceful so far in Coeur d'Alene, but what's different is the amount of armed Idahoans who say they are there protecting the city.
In Coeur d'Alene it seems that everyone is on the same page. Black Lives Matter protesters want their voices heard and change to happen; armed Idahoans want them to have their voices heard; as does the Coeur d'Alene Police Department and they all want it done peacefully.
But one group in particular stood out from the rest on Monday night - and not just because they wear colorful Hawaiian shirts: the so-called "Boogaloo Bois."
To listen to one self-identified member who spoke to KHQ on condition that we don't use his name, their message is one of unity.
"I'm more than welcoming the BLM protest, I want their voice to be heard, I know that myself as a white straight male in the US, I know that I don't know what it is like to be a black male person or black female person, I have no idea at all, so I want their voices heard," he said.
Several men were seen in Coeur d'Alene Monday night, all wearing the Hawaiian shirts, all heavily armed. The member we spoke with said they were there to protect property and the protesters out of their belief in freedom for all.
"We were there in arms, which can make us look a bit, oh, white supremacy, racist, but no, we believe that any person of color should be armed to protect themselves," said the Boogaloo Boi.
But appearances by "Bois" this week in other cities have resulted in criminal charges. Federal prosecutors in Las Vegas have charged three men alleged to be members of the "Boogaloo" movement with multiple state and federal violations of conspiracy to cause destruction during protests in Las Vegas, as well as possession of Molotov cocktails.
So what exactly is the Boogaloo? And what's the deal with those shirts? Answering those questions is a study in internet-based extremism and planning for society's end, mixed with a collection of inside jokes and memes from the darkest parts of the web.
The term 'boogaloo' is a reference to a 1984 movie, "Breakin' 2: Electric Boogaloo." It became a cult hit, and then a meme on websites like Reddit and 4chan.  
"It's not often an old joke evolves into a catchphrase for mass violence, but that's just what's happened this past year when a variety of extremist and fringe movements and subcultures adopted the word 'boogaloo' as shorthand for a future civil war," begins the entry on the Boogaloo posted by the Anti-Defamation League. 
The ADL believes this new usage started with gun rights activists intimating or promising violence if the government were to "come for their guns."
Recent events, including the protests sparked by the death of George Floyd, have seen a flurry of new activity around the movement.
"The 'Boogaloo Bois' expect, even hope, that the warmer weather will bring armed confrontations with law enforcement, and will build momentum towards a new civil war in the United States," is the take from the investigative journalists at Bellingcat.
The 'Boogaloo' meme has evolved to include sound-alike phrases, in some cases to avoid posts getting flagged or blocked on social media platforms. These new terms include 'the Big Igloo,' and - in reference to the Hawaiian shirts - 'the Big Luau.'  
"I know this all seems like a joke and easy to dismiss, but that is part of their strategy to lure in young men and downplay what they are talking about," writes Prof. Reese Jones at the University of Hawai'i. He tweeted an extended history of the culture around the Boogaloo movement, after noticing those shirts at numerous rallies.
With growing alarm, I've watched armed white men protesting around the US. But, as a Hawai'i resident, I've wondered specifically about the reoccurring presence of aloha shirts. Here is a THREAD explaining the odd and concerning story behind it 1/13 pic.twitter.com/n7x7DnGf87

— Reece Jones (@reecejhawaii) May 27, 2020
But the movement itself remains fluid and hard to categorize. "There are indeed white supremacist boogaloo groups," writes JJ McNabb, a Fellow at George Washington University's Program on Extremism. "Most, however, are not." She put together this thread on the arrest of a Boogaloo Boi in Chattanooga: 
Chattanooga police stopped Boogaloo protester with AR-15 at George Floyd demonstrations https://t.co/b3enBYUMjM

— JJ MacNab (@jjmacnab) June 3, 2020
Caught in the middle of all of this amid continuing protests: the Coeur d'Alene Police, who said it's all legal, it's their right to carry.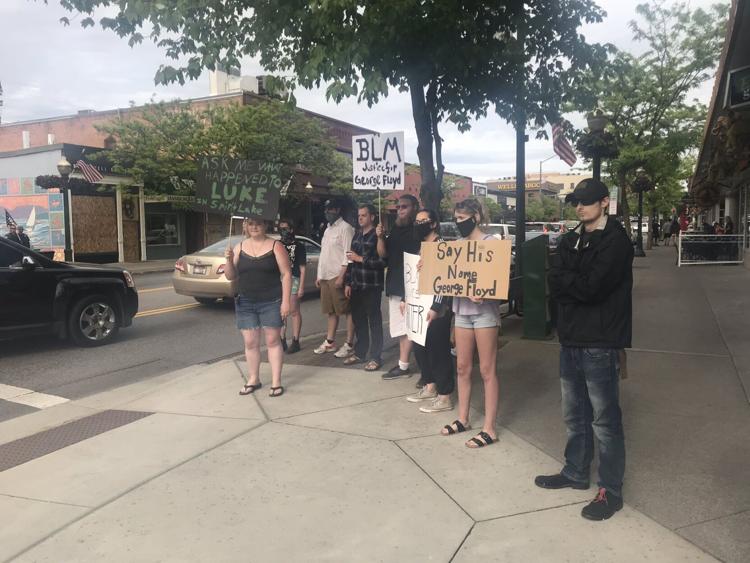 "As far as armed Idahoans, we treat them like any other group, their rights are protected. What we have seen over the past week, the freedom to assemble, freedom of speech speech, freedom to bear arms, those are the freedoms that all Idahoans or anybody is afforded and we are here to make sure those are respected," said Capt. Dave Hagar.
There are more protests planned for the week and Captain Hagar said he isn't concerned about them turning violent.
"We have had open conversations with people out there no matter which group they are with, and I am really confident in the respect that they have shown each other so I don't really have any concerns," said Capt. Hagar.