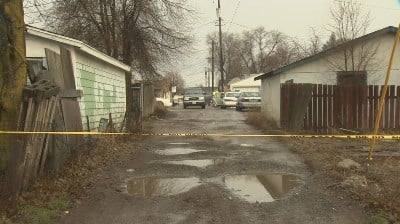 (Spokane police investigate in an alley after a man was found shot to
death Sunday morning.)
SPOKANE, Wash. - Late Tuesday afternoon, Spokane Police identified a 38-year-old man shot to death early Sunday as John Williams.
Major Crimes detectives believe Williams was shot to death early Sunday morning after an argument at a party inside an apartment on N. Crestline spilled into a nearby alley.
Around 3:40 a.m. Sunday, police received a call that several shots had been fired near the 5400 block of N. Crestline. When officers arrived on scene, they found a man who had been shot to death lying in an alley.
As the investigation into the shooting progressed Monday, police served search warrants on three apartments and two cars. In serving the search warrants, police recovered two guns and cocaine. Shell casings found at the scene of the shooting matched ammunition found in a gun discovered in one of the cars, though detectives have not said whether they believe that gun to be the murder weapon.
Police also seized a large amount of glassware from inside the apartment where the party was held and forensics specialists are fingerprinting those items. Those people who are identified through fingerprinting will be interviewed by detectives.
Detectives are asking anyone in attendance at the party, who may have witnessed arguments or the shooting itself, to contact police.