BOZEMAN, Mont. - Despite last week's vandalism, Bozeman officials and residents gathered on Monday afternoon to celebrate the message behind downtown's new rainbow crosswalks.
The crosswalks are painted across two downtown Bozeman intersections. The crosswalks have been in the works for years. The group behind it, Gender Equality Montana, says the crosswalks were created for members of the LGBTQIA+ community to feel at home.
Christopher Coburn, a board member of Gender Equality Montana, explains that "it's a really strong symbol to the people who call this place home, that this place is their home - it's for them, this community sees them, accepts them, and affirms them."
"People are just excited to see this reflected - to see the things that they care about, that they know this community cares about - reflected as paint on the street."
Another goal of the project is for visitors to the area to learn about the values of the Bozeman community.
"It's a very visible way to really clearly articulate what this community cares about," says Coburn.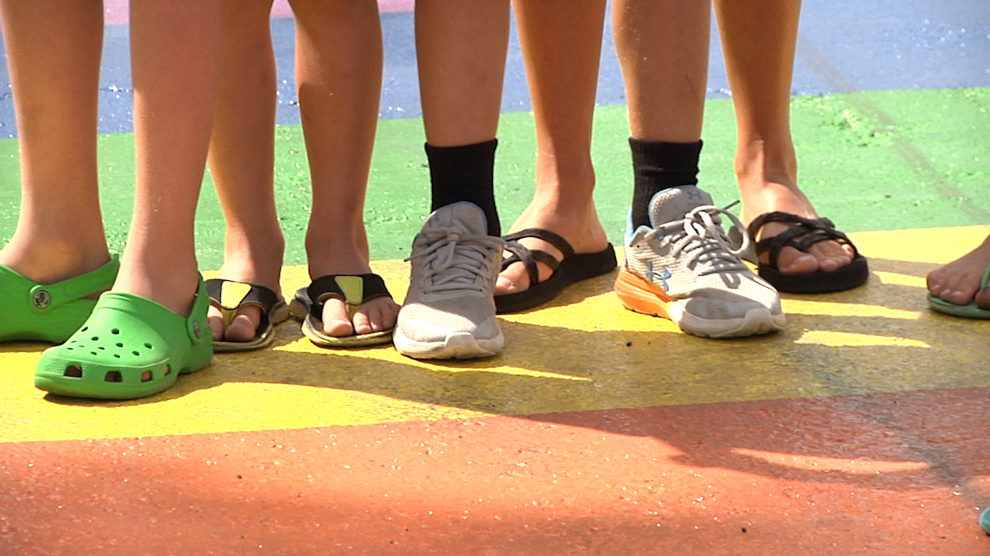 The crosswalks also include extra stripes of color that represent trans people, gender diverse people, and people of color. It's a nod to how race, sexuality, and gender intersect and how systems of oppression work together.
Not even 24 hours after they were installed, the crosswalks had tire drags across them and paint splashed over them. It echoes a similar situation in Missoula in 2018, when the rainbow crosswalk in the city's downtown was vandalized by tire marks soon after it was put on the street. Despite the recent vandalism, Bozeman officials and residents gathered together on Monday to celebrate their message and officially open the crosswalks with a ribbon cutting.
Clara Andrews attended the event with her girlfriend, Mickey Bennig.
"To be able to have difficult conversations surrounding sexuality, race, all those things, you have to make it public and you have to have those difficult conversations," says Andrews. "And there's gonna be times when people are angry and they're gonna be vandalizing whatever, but you have to get through that and past that in order for anything to move forward. And the people are still gonna be there - like you can't put skid marks over me, I will still be here!"
"I and the people who work on this project choose very intentionally to not be distracted by hate," says Coburn. "We are called and propelled to move forward."
The crosswalks are backed by the Downtown Bozeman Partnership, Gender Equality Montana, and it will be owned and maintained by the City of Bozeman.
"It's important for all of us to come together and say, 'Listen, there are people in our community who face substantial barriers to living as they are where they are, there's people who aren't able to thrive because there are systems working against them,'" says Coburn. "And so for us to constantly be reminded that we have work to do to bring along together everybody on our path of collective efforts to thrive is really important."